No. 25 Houghton edges Point Park with second-half goal
Oct. 27, 2009
CHESWICK, Pa. - Nationally ranked Houghton edged Point Park, 1-0, Tuesday in an American Mideast Conference women's soccer game.
Houghton, which was ranked No. 25 in Tuesday's NAIA Women's Soccer Coaches' Top 25 poll, got the only goal of the game on a header from Carolynn Tomlinson in the 57th minute. Tomlinson received a corner kick from Danielle Turner on the far left post and headed it into the top-left corner.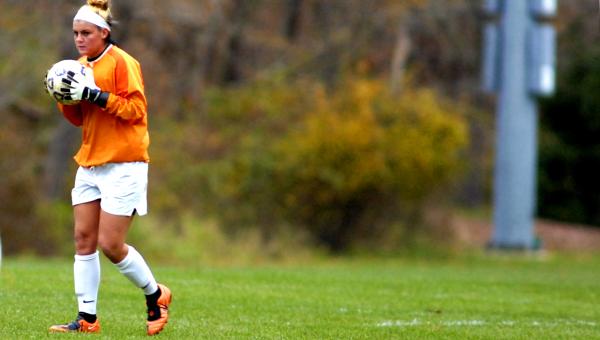 Houghton (14-1-2 overall, 9-1 AMC) held a 22-1 advantage in shots, but Point Park goalkeeper Maeve Gallagher (Pittsburgh/Perry) made a career-high 12 saves to keep the top team in the conference within striking distance.
Despite the disparity in shots, the Point Park defense turned away several crosses and scoring opportunities from the Highlanders.
Houghton goalie Alexa Thayer made one save to pick up the shutout.
Point Park (2-12-1, 0-9-1) held its Senior Day Tuesday and recognized its four seniors during halftime and post-game activities.
Seniors Amanda Hruska (Munhall/Steel Valley), Erica Mikolay (North Versailles/East Allegheny), Angela Olivieri (Edinboro/General McLane) and Alexa Tokarski (Pittsburgh/Schenley) are finishing up their last week on the Pioneers' women's soccer team.
Point Park concludes its season Saturday in an AMC matchup with Malone. Game time is 2 p.m. at Founders Field. 
Pictured above, Point Park goalkeeper Maeve Gallagher made 12 saves Tuesday versus Houghton. Photo by Jack Megaw.