Point Park drops AMC game to Roberts Wesleyan
Oct. 3, 2009 
CHESWICK, Pa. - Roberts Wesleyan topped Point Park, 2-0, in an American Mideast Conference women's soccer game at Founders Field Saturday.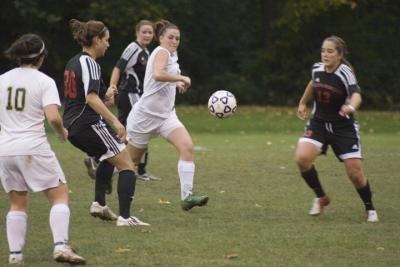 Roberts Wesleyan (4-3-2 overall, 3-1-1 AMC) scored both of its goals in the first half. Point Park (1-6, 0-4) fell behind, 1-0, on Kelsey Medeiros' goal in the third minute. The Raiders made it a two-goal game at the 29:31 mark when Cassady Gardner scored a goal.
Point Park goalkeeper Liz Velez (Erie/General McLane) played a strong game to keep the Pioneers within two goals. The sophomore Velez made 10 saves and faced 18 shots.
The Pioneers have lost five games in a row and will try to get back on track Tuesday in a non-conference game at LaRoche (3 p.m.).
Pictured above, Point Park's Lauren Evans works free versus Roberts Wesleyan Saturday. Photo by Murphy Moschetta.