LaRoche extends winning streak to six with OT victory over Point Park
Oct. 6, 2009
PITTSBURGH - LaRoche edged Point Park, 2-1, Tuesday in a non-conference women's soccer match by scoring the game-winning goal late in the first overtime period.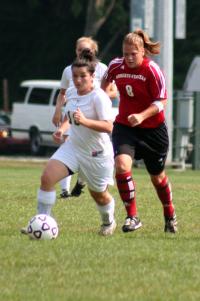 With the overtime victory, LaRoche improved to 9-2 on the year and won for the sixth straight game. Point Park is 1-7 and has lost six in a row.
Point Park fell behind, 1-0, early, but senior forward Angela Olivieri (Edinboro/General McLane) tied the score with a goal in the 26th minute. Lauren Evans (Munhall/Steel Valley) assisted on the play.
Olivieri's tally was the first goal that LaRoche gave up since Sept. 15. The Redhawks entered Tuesday's game having won five straight games by shutout.
The score remained tied at 1-1 until the 99th minute when LaRoche scored the game-winner.
The Pioneers are 0-2 in games played at LaRoche's field this year, and both games ended 2-1 in overtime. Point Park opened its season Sept. 4 with a 2-1, overtime loss to Lake Erie at LaRoche.
Point Park gets back to American Mideast Conference play Saturday at Shawnee State for a 1 p.m. game.
Pictured above right, Point Park Angela Olivieri dribbles the ball in a game last year. (Point Park athletics file photo).