Olivieri, Goodsell lead Point Park's All-AMC women's soccer selections
Nov. 3, 2009
CEDARVILLE, Ohio - Point Park University women's soccer players Angela Olivieri and Ashley Goodsell were each named to the All-American Mideast Conference third team after voting results from the league's coaches were released by the AMC office Tuesday.
Olivieri (pictured left), a senior forward from Edinboro, Pa., and a graduate of General McLane High School, earned All-AMC honors for the fourth time in her decorated career.
Goodsell, a junior midfielder from Southampton, N.J., and Seneca High School, transferred to Point Park at the start of this season after spending her first two years at Richard Stockton College of New Jersey.
Three Point Park players earned All-AMC honorable mention honors, and that list includes senior defender Erica Mikolay (North Versailles/East Allegheny), junior defender Jo Jo Altebrando (Montoursville/Montoursville) and sophomore goalkeeper Liz Velez (Erie/General McLane).
Mikolay received All-AMC recognition for the third time in her career while Altebrando garnered all-conference accolades for the second year in a row. Velez, who completed her first year as Point Park's starting goalie, received an All-AMC nod for the first time.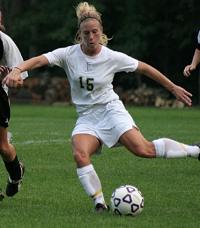 The AMC coaches voted for the All-AMC teams in a meeting held Sunday at Notre Dame (OH) College. The All-AMC first, second and third teams each include four forwards, four midfielders, four defenders and two goalies. There were 26 players who earned honorable mention honors.
Olivieri was the Pioneers leading scorer for the fourth straight year. She scored a team-high five goals and 12 points despite missing the final three games of the season with an injury. The women's soccer team is in its fifth year as a varsity sport, and Olivieri is the program's all-time leading scorer.
Olivieri was an All-AMC North division first-team selection in 2007 and was an All-AMC North division second-team pick in 2006. Last year she was an All-AMC honorable mention selection.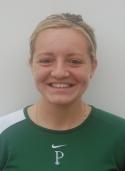 Goodsell (picture above, right) started every game at midfield in her first season at Point Park. She scored one goal and one assist on the year as a standout player in the midfield.
Mikolay (at left) also started all 16 games. The senior from North Versailles, Pa., spent most of her time as a key player at center defense, but she also spent some time on offense throughout her career. She tied for second on the team with three goals and six points.
Mikolay was an All-AMC North division first-team pick in 2007 and was an All-AMC honorable mention choice last year.
Altebrando (pictured below right) joined Mikolay as a standout defensive player for the Pioneers, and the center defender was a big reason why the Pioneers gave up only two goals per game.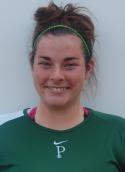 Altebrando, who was All-AMC honorable mention as a sophomore, scored three goals and six points on the year. She handled all of Point Park's free-kick duties, and each of her goals came on free kicks.
Velez (pictured below left) missed the final five games of the season due to a leg injury, but the sophomore from Erie, Pa., had started every game as Point Park's goalie prior to the injury.
Velez made 76 saves and had a goals-against average of 1.68 in 11 starts. She ranked second in the AMC in saves per game at 6.91, and she posted two shutouts on the year.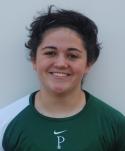 Leading the All-AMC women's soccer selections was Houghton's Keeler Topping, who was named AMC Player of the Year.
Houghton won the regular-season title under the direction of David Lewis, who was named the AMC Coach of the Year. The Highlanders also received the Fair Play Team Award.
Brittney Brooks of Shawnee State was named the AMC Freshman of the Year.