Erica Mikolay named NAIA Scholar-Athlete for second year in a row
Dec. 5, 2009
KANSAS CITY, Mo. - Point Park University women's soccer player Erica Mikolay has been named a 2009 Daktronics-NAIA Women's Soccer Scholar-Athlete. The NAIA announced Friday that Mikolay was one of 387 student-athletes to receive that honor.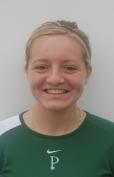 Mikolay, a senior from North Versailles and a graduate of East Allegheny High School, earned NAIA Scholar-Athlete status for the second year in a row. In 2008, she received the award in the first year in which she was eligible.
In order to be considered an NAIA Scholar-Athlete, student-athletes need to maintain a 3.5 grade-point average and attain junior status academically.
Mikolay scored a career-high three goals as a senior to cap off her career as a four-year starter. She received All-American Mideast Conference honorable mention honors this season and was a three-time All-AMC selection.
As the team captain, Mikolay spent most of her playing time of defense, but she also saw action at midfield and forward during her career.
Mikolay started her senior year on offense, and she scored a goal in each of the first two games of the season. But the versatile Mikolay dropped back on defense for the rest of the year, where she helped the Pioneers yield two goals or less in 11 games.
For a complete list of the 2009 Daktronics-NAIA Scholar-Athletes, visit the link below:
http://grfx.cstv.com/photos/schools/naia/sports/w-soccer/auto_pdf/2009WSScholAthletes.pdf