Robert Morris' Jessica Weary named assistant women's soccer coach at Point Park
Aug. 9, 2010
PITTSBURGH – Jessica Weary, who recently completed her women's soccer playing career at Robert Morris University as a four-year starter and a two-year captain, has been named an assistant women's soccer coach at Point Park University, announced first-year head coach Mark Platts Monday.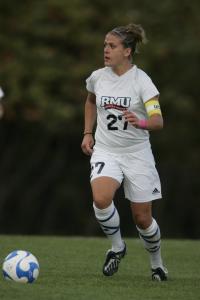 "I am very glad to have Jessica Weary on board as assistant coach," said Platts, who was hired in May. "She played a good standard at Robert Morris and will be a great model for our student-athletes at Point Park. I look forward to working with her and getting her perspective as a recent player."
Weary, a native of Enola, Pa., concluded her four-year career at Robert Morris last fall. She started as a defender in 59 of the 67 games she played the last four years and was a team captain her final two seasons. Career totals include three goals and three assists for a total of eight points.
During her senior season, Weary was a big reason why the Robert Morris defense posted seven shutouts, including five straight in the middle of the year.
"I am really excited about the opportunity at Point Park University," said Weary, a graduate of East Pennsboro High School who earned a Bachelor's degree in English from RMU. "It is a great place to start my coaching career. I love the city of Pittsburgh, and Point Park has a great atmosphere."
Photo courtesy Robert Morris athletics