USG Soccer T-Shirt Night scheduled for Saturday, Oct. 30 vs. Notre Dame (OH)
Halloween Costume Contest will also be held with prizes to the winners!
Notre Dame (OH) at Point Park, Oct. 30, 5 p.m. and 7 p.m.
Point Park University's United Student Government will be sponsoring "USG Soccer T-Shirt Night" for the Pioneers' soccer doubleheader vs. Notre Dame (OH) College on the night of Saturday, Oct. 30.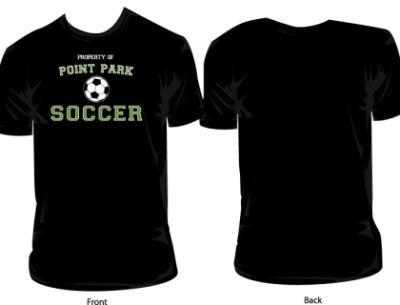 As part of the promotion, USG will be giving Point Park students free Point Park soccer t-shirts while supplies last. Fan Vans will be available to provide students free transportation to the games.
There will also be a Halloween Costume contest with prizes given to the best costumes, so all are encouraged to dress in their costumes.
The Point Park women's soccer team will play Notre Dame (OH) at 5 p.m. for its "Senior Night," and the Point Park men's soccer team will take on Notre Dame (OH) at 7 p.m.
The games are scheduled to be played at Point Park's home field, Founders Field in Cheswick, Pa. There is a possiblity that the venue may change to a different location due to weather reasons. For any possible changes, check the Point Park soccer websites in the future.
Students interested in using the Fan Van shuttle service should check the soccer websites in the coming weeks for details about departure times.
USG Soccer T-Shirt Night had been scheduled for Sept. 30 at home vs. La Roche College, but the games were cancelled that day due to rain and poor field conditions.