Westminster pulls away from Point Park in second half of non-conference game
Sept. 14, 2010
CHESWICK, Pa. – Westminster scored five goals in the second half – three in the last four minutes of the contest – to pull away from Point Park University in a non-conference women's soccer game Tuesday at Founders Field. Westminster won the game, 6-0.  Westminster improved to 4-1, and Point Park is 1-2 after losing its 2010 home opener.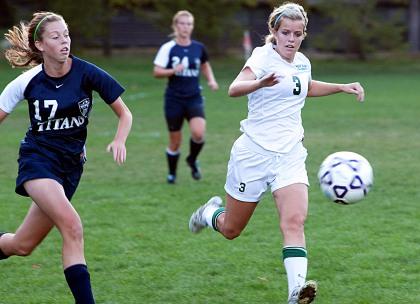 PICTURED ABOVE: Point Park Amanda Trainor (3) works the ball agains the Westminster defense.
Photo by Chelsey Engel
The Titans took an early lead when Danielle Struble scored from 18 yards out in the sixth minute. That was the first of three goals on the night for Struble, but Point Park still managed to stay within one goal at the half.
But Westminster kicked off to start the second half, and the Titans quickly worked the ball down the right side, and that resulted in a goal by Sarah Nee at the 45:32 mark. Eight minutes later, Westminster made it 3-0 on a goal Struble.
The score remained 3-0 until the last four minutes, when the Titans stretched out the final score with three late goals, one of which game on a penalty kick with two minutes left. 
Point Park will have to get right back into game mode as the Pioneers started a stretch of three games in four days on Tuesday night. Point Park visits Geneva on Thursday (7 p.m.) before opening American Mideast Conference play Friday at home ersus Walsh. Game time at Founders Field in 4 p.m.
Pioneers first-year coach Mark Platts made his home debut Tuesday, and Friday's game is a rematch of sorts, for the native of Wetherby, England. Platts spent the last four years as assistant coach on the Walsh women's soccer staff.