Point Park tops WV Tech, 2-1, in NAIA non-conference soccer game
Oct. 21, 2010
CHESWICK, Pa. – Point Park University edged West Virginia Tech, 2-1, Thursday in an NAIA non-conference women's soccer game at Founders Field.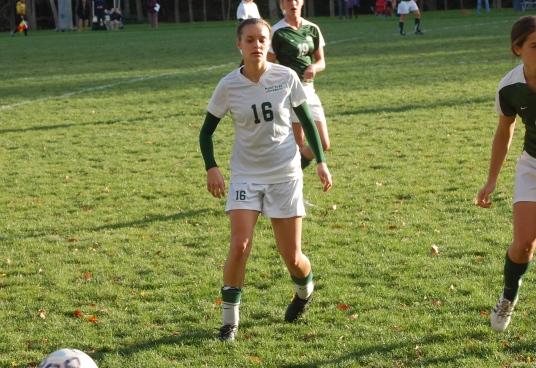 Pictured: Point Park freshman forward Colleen Poploski had a goal and an assist in Point Park's 2-1 victory over WV Tech Thursday afternoon.
The Pioneers (3-11) led 1-0 on Colleen Poploski's goal in the 39th minute. WV Tech (3-10) took the second-half kickoff and promptly tied it a 1-1 on Hannah Jaskot's strike just 16 seconds into the second stanza.
In the 57th minute, Kileigh Williams, a freshman forward from Marion, Ind., got the game-winner for Point Park when she hammered home a cross from Poploski.
Poploski, a freshman forward from Bethel Park, finished the game with one goal and one assist, and she leads the team with four goals and nine points.
For Williams, it was her third goal of the season and her first game-winning tally. Senior midfielder Ashley Goodsell, a native of Southampton, N.J., picked up an assist on Poploski's goal.
The Pioneers held a 21-15 advantage in shots, and they led, 12-8, in shots on goal. Poploski had the most chances for Point Park with 11 shots, six of which were on goal.
Point Park goalkeeper Anna Shaw, a freshman from Mingo Junction, Ohio, made nine saves in 90 minutes.
West Virginia Tech is a member of the NAIA and the Mid-South Conference.
Point Park has three games remaining on its schedule beginning with Saturday's trip to Houghton for an AMC game at 2 p.m.