Carlow gets late goal to top Point Park, 2-1, in AMC women's soccer action
Oct. 5, 2010
CHESWICK, Pa. -- Carlow University's Stephanie Dwinga scored the game-winning goal in the 73rd minute to give the Celtics a 2-1 victory over Point Park University in an American Mideast Conference women's soccer game at Founders Field Tuesday night.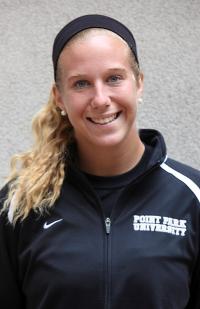 Senior forward Ashley Goodsell (pictured), a native of Southampton, N.J., scored the goal for Point Park (1-7 overall, 0-4 AMC), which tied the game at 1-1 in the 37th minute.
Carlow had taken a 1-0 lead on Maria Czapor's tally in the 23rd minute. But Goodsell's first goal of the year forged a 1-1 tie that would last until the deciding goal by Dwinga much later in the game.
The victory improved Carlow to 3-6-1 overall and 1-5 in the AMC.
Goodsell's tally snapped a long stretch without a goal of the Pioneers, who have dropped seven games in a row.
In what was an even game, both teams had 11 shots, and Carlow held a 4-3 edge in corner kicks.
Point Park freshman goalkeeper Anna Shaw (Mingo Junction, OH/Steubenville Cath.Cent.) played all 90 minutes for the Pioneers and made four saves.
Point Park will be in action Thursday night at home versus non-conference opponent Salem International. That game had been postponed earlier in the year because Salem did not have enough players to field a team.