Point Park shuts out Salem International, 5-0, in non-conference game
Oct. 7, 2010
CHESWICK, Pa. -- The Point Park University women's soccer team shut out visiting Salem International, 5-0, Thursday night in a non-conference game at Founders Field.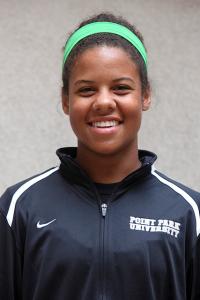 Kileigh Williams (pictured), a freshman from Marion, Ind., scored two goals and added an assist to lead the Pioneers (2-7) to their first home win and their first win since Sept. 1. Point Park also got its first home victory.
The Pioneers wasted little time as Lauren Evans' team-leading third goal of the year came in the second minute. Evans, a junior from Munhall, picked up an assist when she fed Williams for her first goal in the 32nd minute.
Point Park went on to take a 3-0 lead into the halftime break as senior Amanda Trainor (Pittsburgh/Brashear) got her first tally of the year four minutes before halftime. Williams and Karly Shorts (Hollsopple/North Star) assisted on the play.
Williams' second goal came in the 61st minute, and 10 minutes later, freshman Colleen Poploski (Bethel Park/Bethel Park) found the back of the net for a 5-0 lead. Sophomore Ryan Holl (Pittsburgh/Brashear) assisted on each of the last two goals.
Point Park held a 50-1 advantage in shots, and 28 of the Pioneers' shots were on goal. Poploski fired a team-high 12 shots with Holl and Ashley Goodsell (Southampton, N.J./Seneca) each registering six shots.
Anna Shaw got her first-career shutout for Point Park. The freshman from Mingo Junction, Ohio, and Steubenville Catholic Central High School was called upon for only one save.
Salem International (0-3) had to postpone the game when it was originally scheduled for Sept. 22. The Tigers were unable to field enough players on the original date, and they have just 11 on the roster. Ten players traveled with the team Thursday.
Point Park's next three games are all on the road beginning with Saturday's visit to Daemen for an American Mideast Conference game at 2 p.m.