Point Park loses heartbreaker, 3-2 (2OT), Poploski scores two goals
Oct. 9, 2010
AMHERST, N.Y. -- Freshman forward Colleen Poploski scored two goals, but Point Park lost a heartbreaker at Daemen, 3-2, in double overtime Saturday.
Poploski scored in the 82nd minute to force the American Mideast Conference women's soccer game into overtime, and Daemen's Janellie Masi scored in the second extra period to win the game.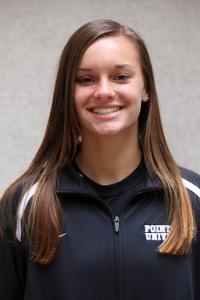 Poploski (pictured), from Bethel Park, Pa., gave Point Park (2-8 overall, 0-5 AMC) a 1-0 lead with a goal in the 12th minute, but the Pioneers were unable to get their first conference win.
Daemen (9-3-1 overall, 4-2-1 AMC) tied the score at 1-1 in the 24th minute, and the game stayed deadlocked until Kacey Bougard gave the Wildcats a 2-1 edge 50 minutes later.
But Poploski scored an unassisted goal, her third tally of the year, a few minutes later to force extra time.
Daemen held a 38-10 advantage in shots, and the Wildcats peppered Point Park goalkeeper Anna Shaw (Mingo Junction, OH/Steubenville Catholic Central) with 20 shots on goal. Shaw came up with 17 saves in 90 minutes.
Lauren Evans (Munhall, Pa./Steel Valley) assisted on Poploski's first goal.
Point Park's next game is Wednesday at Ursuline for an AMC matchup starting at 3:30 p.m.