Three Point Park players earn All-AMC women's soccer honors
Nov. 6, 2010
PITTSBURGH -- Ashley Goodsell, Lauren Evans and Colleen Poploski each earned honorable-mention recognition with the announcement of the 2010 All-American Mideast Conference Women's Soccer Teams by the league office Friday.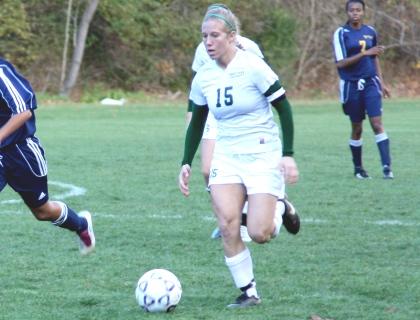 Pictured: Point Park senior midfielder Ashley Goodsell. Photo by Lyddia Ankrom.
After the All-AMC first and second teams consisting of 14 players each, there were a total of 29 players who earned All-AMC honorable-mention honors.
Goodsell, a senior from Southampton, N.J., earned honorable mention honors for the second year in a row. She transferred to Point Park last year from Stockton Coll. of New Jersey, and she started every game with the Pioneers the last two seasons. Goodsell was in the starting lineup all 17 games in 2010 with one goal and one assist, and she was a standout player in the Pioneers' midfield.
Evans, a junior forward from Munhall, Pa., and Steel Valley High School, had career highs of four goals, three assists and 11 points in her third year with the Pioneers. A three-year starter, Evans earned all-conference recognition for the first time in her career.
Poploski, a freshman forward from Bethel Park, Pa., and Bethel Park High School, led the Pioneers with six goals and 13 points in her first year of collegiate soccer. The speedy forward started all 17 games and was the primary offensive threat for Point Park. She fired 58 total shots, 23 more than anyone else on the team.
Point Park had a final record of 4-13 overall in the first season under head coach Mark Platts. The Pioneers had a mix of returning veterans and newcomers in 2010 that molded nicely into a promising showing for the future by year's end. Point Park was 2-2 over the final two weeks of the season, and that included a loss to playoff-qualifier Notre Dame (OH) in double-overtime.
The Pioneers will welcome back their top three scorers and plenty of other key players next year from what was a fairly young roster.