Kari Kowalski of Harrison, Ohio, signs with Point Park women's soccer
Feb. 7, 2011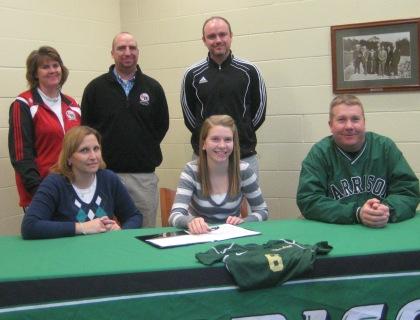 Harrison (Ohio) High School standout Kari Kowalski (seated, center) signed with Point Park Univ. women's soccer. Also pictured are her parents Dan and Sue Kowalski (also seated) as well as Point Park head coach Mark Platts (standing, far right) and Kowalski's club team coaches.
PITTSBURGH – Point Park University women's soccer head coach Mark Platts announced recently that Kari Kowalski, a midfielder from Harrison, Ohio, has signed with the school and will be a freshman for the Pioneers in the fall of 2011. 
Kowalski was a first-team all-conference player and team MVP at Harrison High School, which is located just northwest of Cincinnati, Ohio. The 5-8 midfielder is an honor roll student who will study international business at Point Park.
"Kari is a very composed defensive midfielder who is strong on the ball and covers a lot of the field," said Platts, who is in his second year as Point Park head coach. "She plays simple and keeps possession of the ball very well. She has a good soccer mind and impressed me a lot for her club team where she was able to provide some versatility as a forward. She will come in and compete straight away and provide good playing experience to our midfield."
Kowalski led Harrison in scoring and assists as a senior, and she earned three varsity letters at the school. The daughter of Dan and Sue Kowalski, she was a member of the National Honor Society.
Point Park University is located in downtown Pittsburgh. The Pioneers are members of the NAIA and the American Mideast Conference.
Platts, a native of Wetherby, England, was an assistant coach at AMC rival Walsh University in North Canton, Ohio, in the four years prior to becoming the Point Park head coach in May 2010.