Point Park Univ. women's soccer adds five more freshmen recruits for fall 2011
March 17, 2011
PITTSBURGH – Point Park University women's soccer head coach Mark Platts has signed five more incoming freshmen who will join the Pioneers in the fall of 2011. This group of recruits includes two defenders, a goalkeeper, a midfielder and a forward. 
Platts' first full recruiting class since taking over the program in the spring of 2010 is now at eight players after the addition of Megan Kuntz (F, Newville, Pa.), Ashley Stedge (M, Panama City, Panama), Jorden Strehle (D, Amherst, Ohio), Lauren Finkbeiner (GK, Davison, Mich) and Kaitlin Butler (D, North Versailles, Pa.).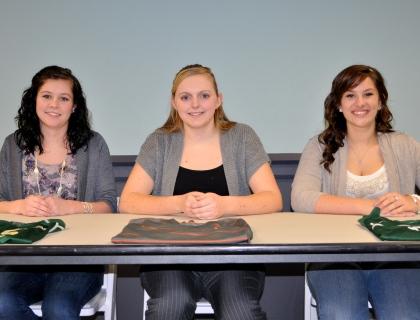 Point Park recruits (L to R): Jorden Strehle (D), Lauren Finkbeiner (GK), Kaitlin Butler (D)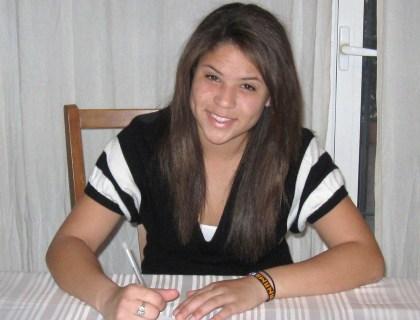 Point Park recruit Ashley Stedge (M)

Point Park recruit Megan Kuntz (F) with head coach Mark Platts
Megan Kuntz is a 5-3 forward from Newville, Pa., who was a four-time Mid-Penn Conference first-team all-star playing for Big Spring High School. A two-year team captain and her school's Athlete of the Year, Kuntz earned a total of 11 varsity letters in high school with four each in soccer and field hockey and three in basketball.
"I am very excited that Megan will be joining us in the fall," said Platts. "She is a very fast and skillful forward who has great one-on-one ability. She fits into the team very well and has a great passion for the game. Primarily a forward, Megan can play multiple other positions because of her speed, and I think she will transition into the college game very well."
Jorden Strehle is a 5-3 defender from Amherst, Ohio, who earned Honorable Mention Greater Cleveland honors at Amherst Steele High School. She earned three letters each in soccer and track and field. She was also a member of the Erie Futbol Club in Avon Lake, Ohio.
"Jorden is a very versatile player from Ohio who's main role will be in defense," said Platts. "I have been watching Jorden since she was a sophomore in high school and have seen her develop into a very solid player. She will offer the team a great deal of options on the outside of defense but can also play in the midfield. She has a great deal of experience at both high school and club, which will help her in the step up to college soccer."
Ashley Stedge is a 5-3 center-midfielder who was born in Panama City, Panama and now lives in Rota, Spain. She earned two letters playing soccer at David Glasgow Farragut High School in Rota. Stedge is a two-time all-tournament selection at the Department of Defense Dependents European Championships and was also a DoDDs Division III All-Region second-teamer.
"I am very glad to have Ashley commit to Point Park," said Platts. "Having played the majority of her soccer in Europe and against overseas competition, I have high hopes for her over the next four years. Ashley is a center midfield who will provide much depth in the competitive center midfield role."
Lauren Finkbeiner is a 5-10 goalkeeper from Davison, Mich. She lettered in soccer while playing for Davison High School and was an honor roll student.
"Lauren is a tall and aggressive keeper from Michigan," said Platts. "At 5-10 she will push our current keepers and provide great competition and depth. She has great shot-stopping ability and is very quick to read the game in coming off of her line."
Kaitlin Butler is a 5-5 defender from North Versailles, Pa. She was a four-time letter winner and a team captain at East Allegheny High School.
"Kaitlin is a strong defender from East Allegheny HS, which is the same HS as other recruit Amanda Mikolay," said Platts. "Kaitlin will provide great depth in the center back position where she played in high school."
In addition to these five most-recent signees, the 2011 recruiting class also includes Amanda Mikolay (F, North Versailles, Pa.), Kari Kowalski (M, Harrison, Ohio) and Angela Robinet (M, South Korea
Platts was hired as head coach at Point Park in the spring of 2010 after spending four years as assistant women's soccer coach at Walsh University, his alma mater, in Canton, Ohio. He is a native of Wetherby, England.
Point Park University is located in downtown Pittsburgh and is a member of the NAIA and the American Mideast Conference. Its enrollment is 3,900.