2011 Point Park University women's soccer schedule announced
Pioneers to play 18 games beginning with two-games in California Aug. 25-27
June 3, 2011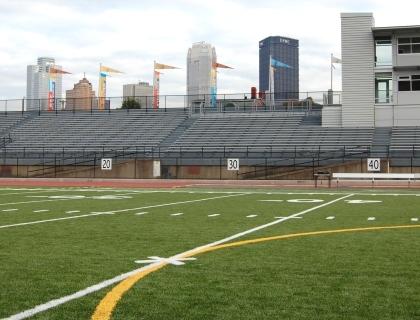 Cupples Stadium in the South Side will play host to two Point Park home games.
PITTSBURGH -- Point Park University's 2011 women's soccer schedule features 18 games -- nine home and nine away -- and gets the regular season underway with a two-game trip to the state of California Aug. 25-27. Also of note is that the Pioneers will play two home games at Cupples Stadium on the South Side.
Point Park will compete in two scrimmages -- Aug. 20 at Pitt-Johnstown and Aug. 23 at St. Vincent -- before making its season-opening trip to California.
Point Park will visit a pair of NAIA schools on its trip to the West Coast -- San Diego Christian and California State-San Marcos. The Pioneers visit San Diego Christian on Thursday, Aug. 25 (4 p.m.) before traveling to California State-San Marcos on Sat., Aug. 27 (12 p.m.).
Other early-season action will see the Pioneers visit the Marietta Classic in Marietta, Ohio, Friday and Saturday, Sept. 2-3. Point Park begins play in that event versus host Marietta on Friday afternoon at 3 p.m. and concludes versus Transylvania (KY) Saturday at 2 p.m.
Point Park will play the bulk of its home schedule in a seven-game homestand that begins Sept. 7 versus Seton Hill.
The last home game in that stretch is a date with Houghton on Friday, Sept. 30 at 10 a.m.. That matchup with Houghton will be the first of two games played a Cupples Stadium, which is located just a few miles from Point Park's downtown Pittsburgh campus on the South Side.
The other game contested at Cupples will be the regular season finale versus Roberts Wesleyan on Friday, Oct. 28 at 10 a.m.
Cupples Stadium, located on the near 8th and Carson streets in the South Side, has been a long-time practice facility for the Pioneers, but will served as a game site for the first time this year.
Point Park's American Mideast Conference schedule includes 10 games. The Pioneers will play each of the five AMC schools twice. The AMC featured 11 schools last year, but four schools have made a move to NCAA Division II and another left for a different NAIA conference.
The five schools that remain in the AMC from last year are Point Park, Daemen, Houghton, Roberts Wesleyan and Carlow. A school that is new to the AMC this year is Fisher College from Boston, Mass., which brings to six the number of teams in the AMC.
Point Park will play a home-and-home series versus long-time AMC member Walsh, but those games will not be considered AMC games. Walsh, which has been accepted into NCAA Division II, is eligible to compete for a regular-season championship in the league, but nothing more.
The top four teams in the standings -- not including Walsh -- will make the postseason AMC Tournament.
With the addition of Fisher, AMC women's soccer retains its one automatic bid to the NAIA national tournament. Conferences must have at least six schools to receive an automatic bid.