Point Park University women's soccer -- 2010 Season Preview
New head coach Mark Platts inherits 13 veterans, nine newcomers
Aug. 26, 2010
PITTSBURGH – The Point Park University women's soccer team is just one week away from its regular-season opener Sept. 1 at Franciscan, and the Pioneers are beginning to take shape under first-year coach Mark Platts. Point Park opened preseason training Aug. 16, and just like with any new coaching staff, the Pioneers are working through an adjustment period.
The Pioneers have 22 players on their 2010 roster with 13 returning veterans and nine incoming freshmen. Point Park welcomes back eight starters from last season, but virtually every starting position on the field was up for competition as preseason camp started.
Of the 22 players on the roster, two are goalkeepers, which leaves two players for each of the 10 other spots on the field.
DOWNLOAD QUICK FACTS , VIEW ROSTER, VIEW SCHEDULE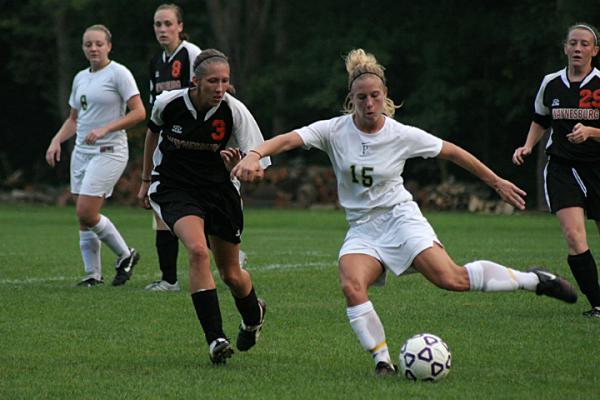 Pictured above: Senior midfielder Ashley Goodsell is a top returning player for the Pioneers.
"We have a good, solid squad of players with a lot of different people who can contribute," said Platts, who was an assistant women's soccer coach at AMC member Walsh the last four years. "We have a backup for each position, so our depth as a whole is good. And there is a lot of competition for positions.
"We have veterans who are used to starting, and we also have incoming players who are vying for time. But we will put the 10 best players on the field regardless of how long they've been here."
Platts, 29, is in his first year as a head soccer coach on the college level. The native of Wetherby, England, helped Walsh to the AMC playoffs the last two years, and he finished up his time playing for the Walsh men's soccer team in 2004. His most significant head coaching experience occurred last season in Alliance, Ohio, when he coached the Marlington High School boys' soccer team to a 12-5-3 record and a berth in the regional finals.
Platts hired Jessica Weary as his assistant coach this summer. This is Weary's first coaching job as she finished playing career as a captain at NCAA Division I Robert Morris last season. Weary was a four-year starter on defense for the Colonials.
The Point Park women return much of last year's team, which had a record of 2-13-1. The Pioneers' season could have gone much different a year ago had it not been for seven losses that came by a one-goal margin. Five of those losses were by a final score of 2-1 and the other two were 1-0.
Entering the 2010 season, Platts feels that a lot of the games on the Point Park's schedule could go either way with the final difference coming down to a few key aspects of the game. According to Platts, team goals this year are for the Pioneers to form into a cohesive team and for the players to taste success, something that the veterans have yet to experience at Point Park.
"I feel that a lot of games will be 50-50," said Platts. "We will have a chance to win much of the time, and the team that wins will be the one that is more fit and the one that plays together as a team."
The things that Platts is stressing in the preseason are hard work, fitness and, as he puts it, "playing soccer," which means possessing the ball and working as a team.
The Pioneers have had a week and a half of workouts, and on Tuesday night, they got their first preseason tune up in a scrimmage versus Bethany. The Pioneers lost, 2-0, but the game was scoreless for the first 70 minutes before the visitors added two goals down the stretch. Point Park's final exhibition game is Aug. 26 vs. St. Vincent.
Point Park's 18-game schedule includes 10 American Mideast Conference games and eight non-conference games. In all, the Pioneers have nine home games and nine road games. Point Park has four non-conference games versus NCAA Division III teams – at Franciscan (Sept. 1), at Waynesburg (Sept. 9), vs. Westminster (Sept. 14) and at Geneva (Sept. 16) before opening conference play at home versus Walsh (Sept. 17).
"There are some games on our schedule that we could expect to win because of past experiences, but nothing is guaranteed," said Platts. "And there are games against strong teams that we should be the underdogs. If we can beat some teams that we are not expected to beat, it would really help our record. If we can do that, the playoffs are not far out of the question."
In the AMC preseason coaches' poll that was announced Aug. 16, the top three teams in the league are Houghton, Mt. Vernon Nazarene and Notre Dame (OH). Houghton was the AMC's regular-season champ last year and opens the season ranked No. 22 in the national preseason poll. Mt. Vernon Nazarene won the AMC tournament in 2009.