Point Park women's soccer wins season opener at Franciscan, 3-2, in overtime
Sept. 1, 2010
STEUBENVILLE, Ohio -- The Point Park University women's soccer team erased a two-goal deficit, and freshmen Casey Baldwin scored an overtime goal to give the Pioneers a 3-2 victory in their season opener at Franciscan on Wednesday.
The Pioneers (1-0) trailed, 2-0, after 30 minutes, but they battled back for the victory. Point Park, which is under the direction of first-year coach Mark Platts, established a couple of firsts on Wednesday. The Pioneers won a season opener for the first time, and they also won an overtime game for the first time in their history. The Point Park women's soccer team reached varsity status in 2005.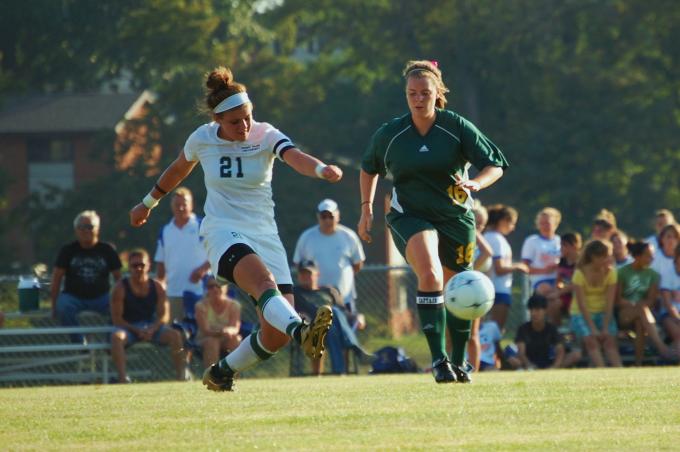 PICTURED ABOVE: Point Park's Maeve Gallagher (21) works the ball upfield during Wednesday's victory at Franciscan. Submitted photo courtesy Frankie Donlon.
After falling behind in the first half, Point Park got on the board with an unassisted goal by junior Lauren Evans (Munhall/Steel Valley) with 10 minutes to play before halftime.
Franciscan (0-1), an NCAA Division III school and a member of the Allegheny Mountain Collegiate Conference, clung to its 2-1 lead until Point Park sophomore Ryan Holl (Pittsburgh/Brashear) registered the equalizer with less than two minutes left in the game.
A couple of minutes into the extra period, Baldwin, a freshman from West Newton, Pa. and Yough High School, found the back of the net for the winner.
Point Park split the goalkeeping duties between junior Liz Velez (McKean, Pa./General McLane) and freshman Anna Shaw (Mingo Junction, OH/Steubenville Catholic Central). Velez played the first half with two saves and two goals against while Shaw played the second half and overtime with a clean sheet. Shaw made four saves.
Franciscan, located in Steubenville, Ohio, had both of its goals scored by Sarah Marrow. She scored the goals four minutes apart with the first coming in the 26th minute.
The Point Park women were 2-13-1 a year ago. The Pioneers have 13 returning veterans and nine incoming freshmen this year. They are in action again Sept. 9 at Waynesburg (7 p.m.). Point Park beat Waynesburg, 2-1, at home last year for one of its two victories.