Walsh stakes 2-0, halftime lead in AMC victory at Point Park
Sept. 17, 2010
CHESWICK, Pa. – Walsh University scored twice in the first half, and that's all it needed in a 2-0 win over Point Park University in an American Mideast Conference women's soccer game at Founders Field Friday night.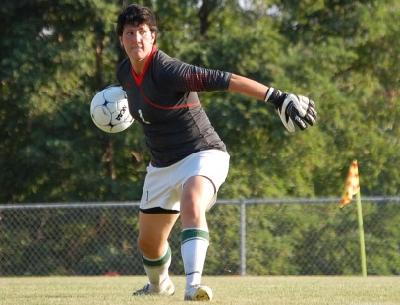 Pictured above: Point Park freshman goalkeeper Anna Shaw set career highs with 16 saves and 90 minutes on Friday. Photo by Frankie Donlon.
Walsh improved to 6-1 overall and evened its AMC record a 1-1 while Point Park dropped to 1-3 and is 0-1 in the conference. 
Walsh was able to take an early, 1-0 lead when Carley Adams scored after the first nine minutes. From there, the game was relatively even, albeit with Point Park goalkeeper Anna Shaw (Mingo Junction, OH/Steubenville Cath. Cent.) making several key saves to maintain the one-goal deficit.
But the Cavaliers took control of the game with Olivia Buttery's goal that came with just 17 seconds remaining in the first half. Walsh sustained the two-goal margin the rest of the way as Point Park absorbed its second shutout in a row.
Shaw, a freshman, ended up with career highs of 16 saves and 90 minutes played. She faced 29 shots, 18 of which were on goal. Point Park managed seven shots, four of which came on goal.
Point Park welcomes Salem International to Founders Field next Wednesday at 5 p.m. On Thursday, the Pioneers play at Geneva (7 p.m.) in a rescheduled game that was postponed due to lightning Thursday night.
The game versus Walsh pitted Point Park's first-year coach Mark Platts against the team that he was an assistant coach for. Before taking the head-coaching job at Point Park this past May, Platts was an assistant on the Walsh women's soccer staff the last four years.