Pioneers can't make up two-goal, halftime deficit in 2-1 loss at Waynesburg
Sept. 9, 2010
WAYNESBURG, Pa. – The Point Park University women's soccer team fell behind Waynesburg by two goals at halftime and ended up losing the non-conference, road game, 2-1, Thursday night.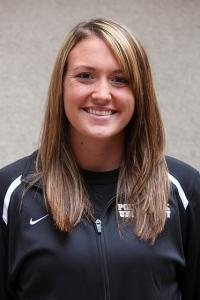 Junior Lauren Evans (pictured), a native of Munhall and a graduate of Steel Valley High School, scored the only goal for Point Park (1-1). Evans' second tally in as many games came in the 53rd minute, and it made the score 2-1.
After that, Point Park could not find the equalizer as Waynesburg (2-2-1) made its two first-half goals stand up. The Yellow Jackets took a 1-0 lead in the 10th minute on a goal by Danielle Danhires.
With 14 minutes left in the first half, Courtney Ebersole gave Waynesburg a 2-0 lead. Susie Godwin assisted on both goals for the Yellow Jackets.
In addition to her goal, Evans led the Point Park attack with six shots, five of which were on goal. Point Park had 14 shots as team, compared to 20 for Waynesburg.
The Pioneers split their goalkeeping duties with junior Liz Velez (McKean/General McLane) playing the first half with five saves, and freshman Anna Shaw (Steubenville, OH/Steubenville Catholic Central) playing the second half with six saves.
The Pioneers opened their season Sept. 1 with a 3-2, overtime win at Franciscan, and Thursday's game was their first action in over a week.
Point Park's next game is its home opener versus non-conference Westminster on Tuesday. Kickoff at Founders Field in Cheswick, Pa. is set for 5 p.m.