Point Park U. soccer adds two more incoming recruits for fall 2011
July 7, 2011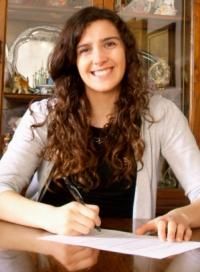 PITTSBURGH -- Point Park University women's soccer has added two more recruits to its list of incoming players for the fall of 2011 with the addition of freshmen Robin Tkacz (MF, Mayfield, OH) and Louise Delaney (D/M, England), announced second-year head coach Mark Platts.
Tkacz (pictured) is a midfielder from Cleveland, Ohio, and is is a product of Mayfield High School. She was a part of club teams that competed for National Indoor Championships.
"Robin will come in and compete in the midfield," said Platts. "She is a good athlete and has played both high school and club soccer in Ohio. She will study political science at Point Park."
Louise Delaney is a native of Headley Down, Hampshire, in England. She is a defender/midfielder who stands 5-foot-5. Delaney is a graduate of Alton College High School.
"Louise will add compeition in several positions," said Platts, also a native of England. "She has played at a very good level in England and can play both defense and midfield. She will bring a great deal of experience to the team, and I am excited to have her as part of our program and University."
Point Park opens its season Aug. 25 at San Diego Christian.