Point Park women's soccer adds transfer Stammer from Sierra (CA) College
July 29, 2011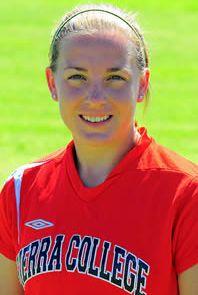 PITTSBURGH -- Point Park University women's soccer has added transfer Kristina Stammer to the 2011 roster, announced head coach Mark Platts. Stammer, from Daytona Beach, Fla., will be a sophomore for the Pioneers this year after spending her freshman season at Sierra (Calif.) College.
Stammer, a 5-3 midfielder/forward, was named All-Big 8 Conference last year at Sierra. Stammer helped Sierra to a record of 10-5-2 and a national ranking in NJCAA Division III. Sierra is a junior college in California.
Stammer is a graduate of Mainland High School in Daytona Beach, Fla. She played club ball for the Stetson Futbol Club and the Ormand Beach Waves.
"Kristina played forward for Sierra College her freshman year and will in as a sophomore," said Platts, who is in his second season as Point Park head coach. "She has experience in multiple positions and has the ability to play both the right- and left-hand side of both the defense and attack. She is a great addition to the recruiting class this year, and will have a very successful time at Point Park."
Follow us on twitter: www.twitter.com/pointparksports