Point Park women's soccer spots early lead to Siena Heights in 3-0 home loss
Sept. 1, 2014 at 7:30 p.m. ET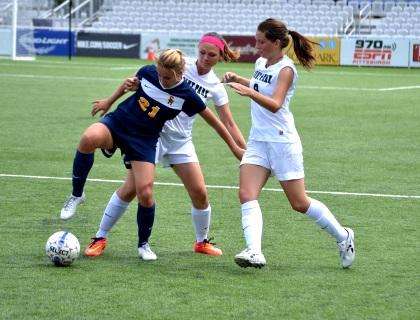 Point Park's Simone Keibler and Alyson Joyce (right) battle Siena Heights' Meagan Mousty on Monday at Highmark Stadium.
PITTSBURGH -- The Point Park University women's soccer team spotted visiting Siena Heights (Mich.) University an early, 2-0 lead, and the Saints used that momentum to keep the Pioneers at bay for the duration of the 3-0 victory on Monday at Highmark Stadium.
Siena Heights (2-0) scored two goals the first two minutes and 12 seconds and also added a tally midway through the first half to stake a 3-0, halftime lead over Point Park (0-3). And although the Pioneers played even with the visiting Saints the final 45 minutes, the damage had been done.
Siena Heights got started on its way to victory when Carlee Pallett cut through the Point Park defense for a goal 41 seconds after kickoff. Emily Burkman dropped off a great lead pass to knife through the Pioneers' defense near the top of the 18. At the 2:12 mark, Samantha Bartelotti made it 2-0 with another score.
Paige Frey made it 3-0 with a strike at the 22:29 mark. Although it was the only other goal on the board, it was more than enough with Crystal Wilcoxen and Taylor Hill pitching a shutout in goal for the Saints.
Point Park held a 5-4 advantage in shots the second half although Siena Heights led in shots, 20-10, for the game. Mackenzie Pinto (3 saves, 3 GA) stated in goal for Point Park and played the first half. Erica Roney (3 saves, 0 GA) played the final 45 minutes.
Point Park continues its busy week with Wednesday's road game at La Roche (5 p.m.). It will be the Pioneers' third game in five days, a stretch that started with Saturday's 3-2 loss at Malone (Ohio).
Follow the Pioneers on Twitter @PointParkSports and Facebook.com/PointParkAthletics