Point Park women place 7th at West Virginia Wesleyan Bobcat Classic
March 30, 2015 at 11:30 p.m. ET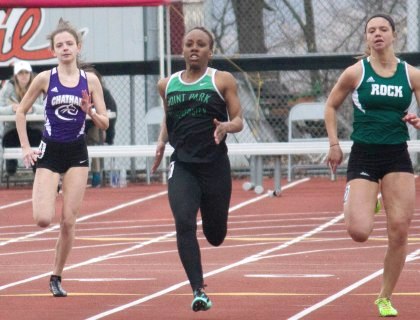 Taelor Fowler placed third in the 200 meters at the West Virgina Wesleyan meet. Photo by Sam Robinson.
WEIRTON, W.Va. -- The Point Park University women's outdoor track and field team battled harsh conditions and NCAA Division II competition on Saturday at the West Virginia Wesleyan Bobcat Classic and came away with seventh place of eight teams.
It was the second outdoor meet in school history for the Pioneers, who are in their first year of competition. The conditions were more suited for the indoor season, but Point Park and the rest of the team competed in temperatures below 30 degrees.
The meet provided the first outdoor competition that included team scoring for the Pioneers. A total of four athletes scored points for Point Park, which amassed 18 points as a team.
Freshman Katie Guarnaccia scored eight points with a second-place finish in the 1,500 meters. Her time of 5:08 was four seconds behind event winner Rachel Crane of Robert Morris University.
Point Park was well-represented in the 200 meters with Taelor Fowler placing third for six points and Amber Brown taking fifth for two points. Fowler had a time of 28.48, and Brown came in at 29.96. The 200-meter winner was Mykera Days of West Virginia Wesleyan at 27.77.
The final Pioneers athlete to pick up points was Vianka Cotton, who placed seventh in the long jump to earn two points. She had a leap of 4.26 meters. Cotton, who played basketball for Point Park the last two years, also placed third in the triple jump (9.55 meters).
Darian Leighty finished fourth in the triple jump (8.99 meters) and ninth in the long jump (4.16 meters). Candice Stein placed eighth in the shot put at 7.63 meters.
Jahniah McAllister had a solid day on the track placing eighth in both the 100 meters (13.85 seconds) and 400 meters (1:06.67 seconds). In the 800 meters, Alexis Sherman led Point Park in 19th place with a time of 2:59.
Point Park's next competition is Thursday, April 2 at the Slippery Rock Open. The meet begins at 12 p.m. Follow the Pioneers on Twitter @PointParkSports