Point Park's Guarnaccia the KIAC Women's Track Athlete of the Week again

April 28, 2015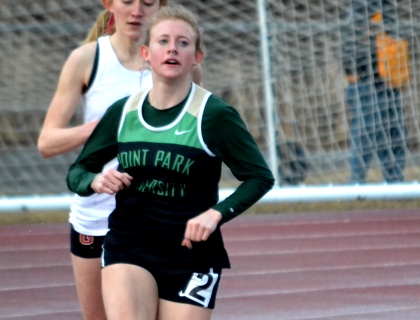 PITTSBURGH -- Pulling off the rare feat of a distance runner winning three events in the same meet, Point Park University freshman Katie Guarnaccia has been named the KIAC Women's Outdoor Track Athlete of the Week for her performance at the KIAC Championship Meet this past Saturday.
Guarnaccia, from North Allegheny High School, was named the MVP of the KIAC women's meet after taking first place in the 10,000 meters, the 5,000 meters and the 1,500 meters. As a result, she picked up her third KIAC weekly honor of the season, as announced by the conference office on Monday.
Guarnaccia cruised to victories in all three events and set KIAC records in each. First, she lapped the field in winning the 10,000 meters by more than two minutes. Next, she raced to victory in the 1,500 with at time of 4:57. Finally, she beat the field by more than three minutes in finishing the 5,000 in 18:50.
Guarnaccia and the Pioneers will be next in action on Friday, May 1 at the Grove City Invitational. There, she will continue to seek the qualification standards needed for the NAIA National Championship Meet May 21-23 in Gulf Shores, Ala. All athletes who meet the qualifying standards at a sanctioned event reach the NAIA meet.
Follow the Pioneers on Twitter @PointParkSports