Point Park's Cotton claims KIAC Women's Outdoor Field Athlete of the Week
April 7, 2015 at 1:20 p.m. ET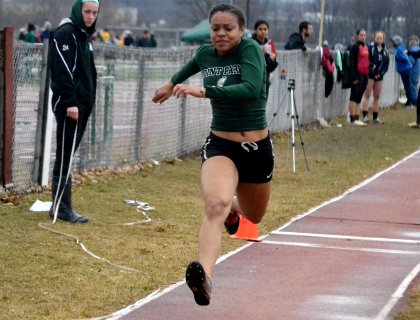 PITTSBURGH -- Point Park senior Vianka Cotton has claimed KIAC Women's Outdoor Field Athlete of the Week honors for her performance April 2 at the NCAA Division II Slippery Rock Open.
Cotton, from New Hill, N.C., had a strong day in the jumping events as she set two team records. She placed fourth in the triple jump with a school-record leap of 10.19 meters. That bested her previous team record of 9.55 meters.
In the long jump, Cotton placed 10th with a team-record distance of 4.68 meters. That leap beat her previous record of 4.45 meters.
Cotton has competed in three meets in the outdoor season. She joined the Pioneers' track and field team when the basketball season was over. She was a member of the Point Park women's basketball team the last two years.
The next competition for the Pioneers is April 11 at the Westminster College Invitational.
Follow the Pioneers on Twitter @PointParkSports