Point Park Women's T&F sets five outdoor school records at SRU Open
April 2, 2015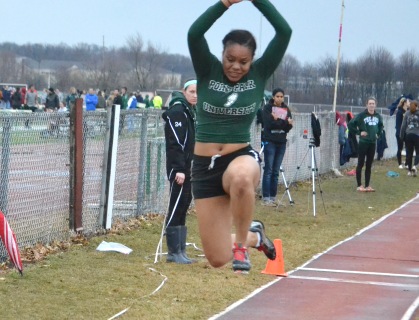 Vianka Cotton competes in the triple jump at the SRU Open on Thursday.
SLIPPERY ROCK, Pa. -- Point Park University women's track and field set five outdoor team records while competing at the SRU Open on Thursday.
Two of the records were set by Vianka Cotton, who continued her surge in the jumping events and broke her own previous records in the triple jump and long jump.
Cotton, who joined the team for the outdoor season once basketball season ended, placed fourth in the triple jump with a team-record of 10.19 meters. That mark bested her previous distance of 9.55 meters.  Cotton was also 10th in the long jump with a record leap of 4.68 meters to beat her previous mark of 4.45 meters.
Point Park records were also set in the shot put by Vanessa Sprando (9.40 meters) and in the discus by Candice Stein (24.88 meters). A final program record was established by Olukemi Olugbakinro in the 800 meters. She broke her own record with a time of 1:05.88, which placed eighth.
Katie Guarnaccia had yet another high finish in the 5,000 meters placing second with a time of 18:44. The race was a matchup of two of the top outdoor 5K runners in the area. Grove City's Emily Rabenold, who two weeks ago established the best 5K time in all of NCAA Division III, took first place at 18:07. She and Guarnaccia were side by side for the first few laps, and Guarnaccia built a lead early on.
Jahniah McAllister represented Point Park in the hurdles. She placed eighth in the 400 hurdles at 1:12.56 and 13th in the 100 hurdles at 17.65 seconds.
Kelsey Wilkins ran the 1,500 meters in 5:16.90 to place ninth. The 800 meters had McKenzie Wilson in 15th at 3:00 and Alexis Sherman in 16th at 3:05. 
The 100- and 200-meter dashes had a host of Pioneers compete. Chereese Langley led the way in the 100 in 12th place at 13.20 seconds. Amber Brown was next in 13th place at 13.21. Taelor Fowler came in 16th at 13.32. 
In the 200 meters, it was Fowler who took top team honors placing 15th with at time of 28.89 seconds. Langley wast just behind in 17th place at 28.92. 
In the high jump, Danika Adams-Peterson placed tied for fifth with a leap of 1.40 meters. The Pioneers' top javelin thrower was Audra Lewis in 18th place with a toss of 21.72 meters.
For complete meet results, visit the link above. Point Park is in action again April 11 at the Westminster College Invitational.
Follow the Pioneers on Twitter @PointParkSports