Point Park Women's Track & Field sets 12 school records at Westminster
April 12, 2015 at 11:30 p.m. ET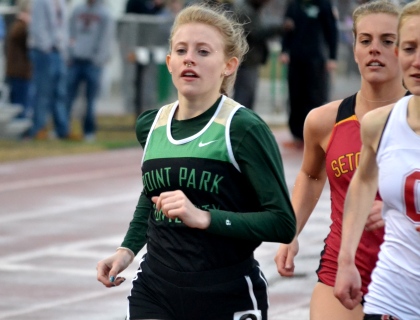 Katie Guarnaccia won the 1,500- and 5,000-meter races at Westminster.
NEW WILMINGTON, Pa. -- The Point Park University women's outdoor track and field team continued its meet-by-meet improvement in its first-ever year of competition by establishing 12 school records at the Westminster Invitational on Saturday.
The Pioneers registered program bests in all but two of the individual events. The 12 school records had eight of them come from freshman and two by a sophomore.
As a team, Point Park totaled 32 points to place 10th of 22 teams. The Pioneers scored in six events in all.
One of the stars of the entire meet was Point Park distance runner Katie Guarnaccia. A freshman from North Allegheny, she won first place in the 1,500 and 5,000 meters. The only other athlete to win multiple events was Malone's Crystal Barber, who took first in the 100 and 200 meters.
Guarnaccia won the 1,500 by five seconds with a time of 4:58.58. She followed that up with a superb performance in the 5,000 as her time of 17:58.44 not only won by 46 seconds but also established a Top 20 time in the NAIA this year. Her times set school records in both events.
Vianka Cotton had a high finish of third in the triple jump with a school-record leap of 10.43 meters. She was also 19th in the long jump at 4.06 meters. Danika Adams-Peterson scored in the high jump with a height of 1.45 meters to set a school record and place sixth.
Kelsey Wilkins earned points in the 800 meters as her time of 2:28.54 was good for eighth place and set a team record. Wilkins also anchored Point Park's 4 x 400 relay team that placed seventh to earn a couple of points.
The sprinting events had Amber Brown lead the Pioneers and set school records in the 100 meters (13.05) and 200 meters (26.83). She was 11th in the 100 and ninth in 200. Taelor Fowler was right behind in the 100 at 13.07, and Chereese Langley was next at 13.14. Langley led Point Park in the 400 and ran a team record time of 1:04.57
Hurdler Jahniah McAllister broke her own school records in the 100 hurdles (16.51) and 400 hurdles (1:12.97) to place ninth and 11th, respectively, in those events.
Thrower Vanessa Sprando established two school records placing 12th in the shot put at 9.87 meters and 22nd in the discus at 26.79 meters.
Point Park's next competition is at the Slippery Rock Dave Labor Invitational next Saturday, April 18. It is the final meet before the KIAC championship April 24-25 at Rio Grande.
Follow the Pioneers on Twitter @PointParkSports