Point Park women's track & field led by sprinters at Slippery Rock meet
April 18, 2015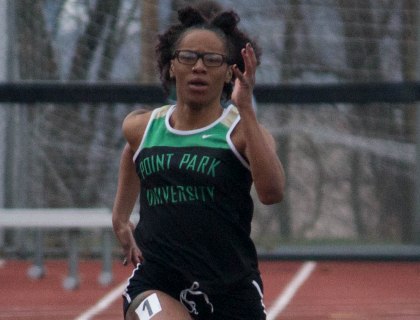 Point Park sprinter Amber Brown placed 8th in the 100- and 200-meter dashes. Photo by Sam Robinson.
SLIPPERY ROCK, Pa. -- Point Park University women's outdoor track and field had its sprinters lead the way on Saturday at the Dave Labor Invitational hosted by Slippery Rock University.
With conditions on race day finally becoming ideal for the outdoor season, the results showed with the Pioneers' sprinters having their best day of the spring. Point Park set team records and established the best times in the KIAC this year in all of the sprinting events.
Amber Brown led the sprinting effort placing eighth in both the 100- and 200-meter dashes. She broke Point Park school records in both events with KIAC-best times of 12.63 seconds in the 100 and 26.06 in the 200.
Point Park's sprinters all placed in the top 20 of the 100 with Brown leading the way. Also in the event were Jahniah McAllister in 12th at 12.70 seconds, Taelor Fowler n 14th at 12.72 seconds and Chereese Langley in 18th at 12.82 seconds.
That same group beat their school-record time in the 4x100 relay with a time of 49.66 seconds. That placed sixth on Saturday.
Point Park 400-meter runner Olukemi Olugbakinro continued her improvement with a time of 1:02.65, which bested her previous school record in the event and placed 18th at SRU.
The highest individual finisher for the Pioneers was Katie Guarnaccia placing second in the 5,000 meters. Guarnaccia ran the race in 18:32.
In the high jump, Danika Adams-Peterson broke her previous school record and placed 11th with a mark of 1.48 meters. Vianka Cotton took 13th in the triple jump at 10.20 meters.
Point Park's next competition is the KIAC championship meet next Saturday, April 25 at Rio Grande.
For a complete listing of the results, click the link above. Follow the Pioneers on Twitter @PointParkSports