Guarnaccia's 5K win highlights Point Park's performances at Grove City
May 2, 2015 at 9:45 a.m. ET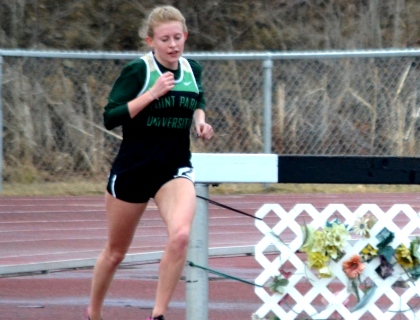 GROVE CITY, Pa. -- Freshman distance runner Katie Guarnaccia won the 5,000-meter race to highlight the Point Park University women's outdoor track and field team's individual performances Friday at the Grove City Family Weekend Invitational.
In the unscored meet, Point Park athletes were competing in their second-to-last chance to establish national qualifying standards for the NAIA meet later this month. The Pioneers' athletes did not come up with any NAIA standards on Friday, but they still had some high placements at the meet.
For Guarnaccia, the victory in the 5,000 meters marked the fourth time this outdoor season that she has won that event at a meet. She was also first at Cal U, Westminster and the KIAC Championships. She was second at the two Slippery Rock meets.
Guarnaccia had a time of 18:28 on Friday. She found herself all alone in front and won by 27 seconds. The ease of the win left her off the NAIA pace of 17:50, although that mark is just eight seconds faster than her best time of 17:58 this year.
Point Park took second place in both the 100- and 200-meter dashes with Jahniah McAllister coming in at 12.95 in the 100 and Amber Brown at 26.71 in the 200. Chereese Langley was sixth in the 100 at 13.11, and Taelor Fowler was fifth in the 200 at 27.25.
Olukemi Olubakinro placed third in the 400 with a time of 1:04.24 and was also sixth in the 200 at 27.47.
The triple jump had Vianka Cotton (9.83 meters) and Darien Leighty (9.47) place fourth and fifth, respectively. Those two were ninth and 10th in the long jump.
Point Park's KIAC champion 4x100 relay team entered the day seeking to shave off 1.34 seconds it needed to qualify for NAIAs. But the Pioneers were disqualified in the race, which had Point Park as the only entrant in the event.
The relay team and the rest of the Pioneers individuals will have one more chance to make their NAIA standards. The Pioneers will compete next Friday, May 8 at the Allegheny College Invitational.
Follow the Pioneers on Twitter @PointParkSports #PPUTF