Guarnaccia earns KIAC Outdoor Track Athlete of the Week for 5K win
March 24, 2015 at 11:40 p.m. ET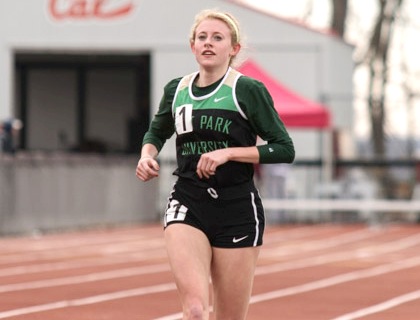 Photo by Ty Smith (March 21, 2015 at Cal U Meet)
PITTSBURGH -- Point Park University freshman Katie Guarnaccia gained conference attention as the KIAC Women's Outdoor Track Athlete of the Week March 16-22 with her 5K victory at the Cal U Early Bird Meet on Saturday, March 21.
Guarnaccia, a graduate of North Allegheny High School, won the 5,000 meters at the NCAA Division II met by a very wide margin to pick up the KIAC weekly honor. Her time of 18:39 beat the rest of the field by 39 seconds. She led from start to finish and lapped many runners.
It was the first-ever outdoor meet in school history for the Pioneers, who are in their first year competing in track and field. Guarnaccia competed in the indoor track and field season and was also an all-conference cross country performer in the fall.
The next event for Point Park is March 28 at the West Virginia Wesleyan Bobcat Invitational. Follow the Pioneers on Twitter @PointParkSports