Point Park women's indoor track & field competes at SPIRE North Coast Open
Jan. 24, 2015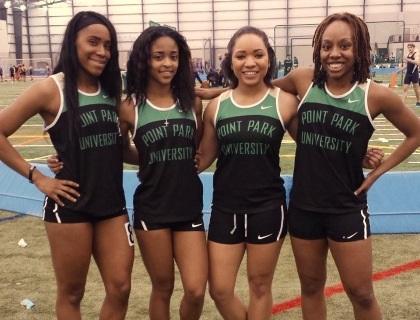 Point Park's 4x400 relay team (L to R): Amber Brown, Jahniah McAllister, Chereese Langley and Taelor Fowler.
GENEVA, Ohio -- Competing for just the second time in school history and the first time in the spring semester, the Point Park University women's indoor track and field team participated Saturday at the SPIRE North Coast Open at the SPIRE Institute in Geneva, Ohio.
The Pioneers were in action for the first time since the inaugural track and field meet in program history Dec. 5 at Youngstown State. With another meet under their belts, the Pioneers continued to build toward the KIAC and NAIA championship meets with Saturday being the first of five regular-season competitions this semester.
Jahniah McAllister had the best overall day for the Pioneers as the freshman from Gateway High School was the top Point Park finisher in three different events. She placed 14th in the 60-meter dash, 15th in the 200-meter dash and 17th in the 60-meter hurdles. McAllister won her heat in the 200 and had a time of 27.18 seconds in the finals.
Taelor Fowler, a senior from Penn Hills High School, had good showings on the track with a 15th-place finish in the 60 meters and a 19th-place finish in the 200 meters.
The 60-meter dash had four Point Park sprinters in the top 21 finishers. In addition to McAllister in 14th and Fowler in 15th, Amber Brown placed 17th, and Chereese Langley was 21st.
Point Park's top entry in the 4x400 meter relay placed 12th with a time of 4:31.56. That quartet was made up of Olukemi Olugbakinro, McAllister, Kelsey Wilkins and Brown.
Point Park's 800-meter performers had Emily Maxwell lead the way in 20th place with a time of 2:35.39. Katie Guarnaccia was next with a time of 2:46.16 in 34th place followed by McKenzie Wilson with a time of 2:49.51, which was good for 36th place.
In the mile, Guarnaccia, an all-conference performer in Pioneers cross country, was 15th at 5:48.26, and Alexis Sherman was 22nd at 6:34.57.
Point Park's field participants were highlighted by Vanessa Sprando placing 20th in the shot put with a toss of 9.00 meters and Derien Leighty placing 20th in the long jump with a leap of 4.06 meters.
Point Park's next competition will be at the same venue Jan. 30-31 for the SPIRE Midwest Open. Follow the Pioneers on Twitter @PointParkSports and #PPUTF