Point Park women's track & field sets six school records in third indoor meet
Jan. 31, 2015 at 11:30 p.m. ET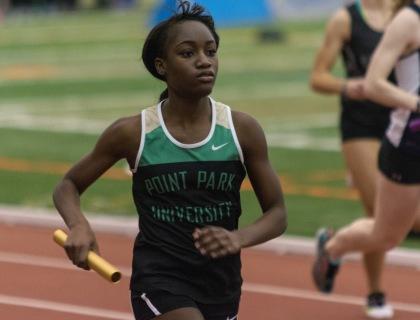 Olukemi Olugbakinro runs the third leg of the school-record setting 4x400 relay. Photo by Ty Smith.
GENEVA, Ohio -- Competing in its third meet in school history, the Point Park University women's indoor track and field team set six school records this weekend at the SPIRE Midwest Open at the SPIRE Institute in Geneva, Ohio.
The six records that were set came from a variety of events with sprints, distance events and a relay represented.
Taelor Fowler, a 25-year old sprinter from Penn Hills, Pa., was a part of three of the records that fell. Fowler, who is competing for the first time in six years, set school records in the 60 meters (8.24 seconds) and 200 meters (27.12 seconds) and was also a part of the record-setting 4x400 meter relay team.
The relay team of Amber Brown, Olukemi Olugbakinro, Chereese Langley and Fowler had a time of 4:26.39 to shave five seconds off the previous program best.
The distance events had school records set by freshman Katie Guarnaccia, who ran the 3,000 meters in a record time of 11:06.71, and by sophomore Kelsey Wilkins, who ran the mile in 5:30.
Guarnaccia, from North Allegheny High School, and Wilkins, from Central Valley High School, finished second and third, respectively in the KIAC women's cross country championships this past fall.
The final record-setting performance came from Jahniah McAllister in the 60 meter hurdles with a time of 10.07 seconds, which tied the record that she set at Youngstown State Dec. 5. She is a freshman from Gateway High School.
Other performers to lead Point Park in track events included Olugbakinro in the 400 meters at 1:03.30 and McKenzie Wilson in the 800 at 2:46.99.
The relay runners all competed in the 200 meter dash as well. Led by Fowler and her school-record time of of 27.12, Point Park also had Langley (27.58), Olugbakinro (27.64) and Brown (27.69) compete in the 200.
Shot putter Vanessa Sprando represented the Pioneers in the field with a throw of 8.88 meters.
For complete meet results, click the links above in both desktop and mobile application versions.
The Pioneers will compete next Saturday at the Mt. Union Jim Wuske Invitational Feb. 7 in Alliance, Ohio.
Follow the Pioneers on Twitter @PointParkSports and Facebook.com/PointParkAthletics