Women's T&F at Kent State highlighted by 5 records, Guarnaccia's near miss

Feb. 22, 2015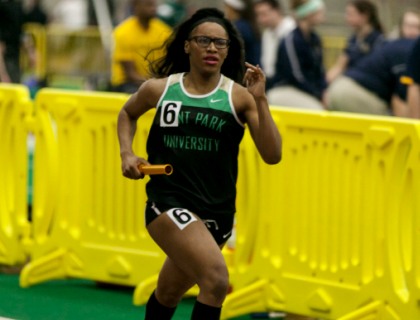 Amber Brown runs her leg of the 4x400 relay on Saturday at Kent State. Photo by Ty Smith.

RESULTS

KENT, Ohio -- The Point Park University women's indoor track and field team finished its season on Saturday at the Kent State meet. It was a day in which five women's indoor school records were set, and Katie Guarnaccia just missed a national-meet qualification in the 5,000 meters.

The NCAA Division I Kent State Tune-Up was the last meet of the indoor season for the Pioneers, meaning it was the last chance to qualify for the NAIA national meet or set any school records.

Point Park freshman distance runner Katie Guarnaccia just missed an NAIA national meet qualifying time in the 5,000 meters. The North Allegheny High School graduate placed 10th with a school-record time of 18:36 as she came up just three seconds short of the NAIA standard of 18:33.

Guarnaccia finished third among the collegiate competitors behind only a couple of NCAA DII and DIII All-Americans from Edinboro and Mt. Union.

Guarnaccia was also a part of a 4x400 meter relay team that set a school record at 4:23.66. The relay team was made up of Guarnaccia, Amber Brown, Jahniah McAllister and Chereese Langley.

Brown established a Point Park record in the 200 meters as her time of 26.82 seconds placed 28th overall.

McAllister set a school record in the 60-meter hurdles at 9.76 seconds, which was good for 21st place. She also registered a personal-best time of 27.08 seconds in the 200 meters.

Another school record came from Emily Maxwell, who placed third in the 1,000 meters at 3:21.86.

For complete meet results, click the link above. With the indoor season coming to an end, the Pioneers will now transition to the outdoor track and field season for their next events.