Point Park competes at Cal U for first Outdoor Meet in program history
March 21, 2015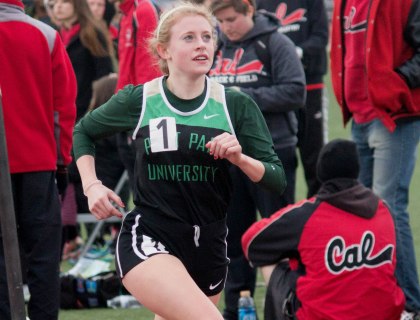 Katie Guarnaccia races to a win in the 5,000 meters by 39 seconds over the field. Photo by Sam Robinson.
CALIFORNIA, Pa. -- The first-ever outdoor track and field meet in the history of Point Park University was Saturday at the Cal U Early Bird Meet. The Pioneers were represented well on the women's side with the highlight being Katie Guarnaccia winning the 5,000 meters by 39 seconds over the rest of the field.
Guarnaccia, a freshman from North Allegheny High School, raced to a time of 18:39, and the second-place finisher came in at 19:18. Guarnaccia led from start to finish and was lapping other competitors early on in the race. It highlighted the day for the Point Park women.
There was no team scoring at the meet, but the Pioneers had some standout performances. One was the 4x100-meter relay team of Taelor Fowler, Amber Brown, Chereese Langely and Jahniah McAllister that placed fifth with a time of 50.92.
Another placement was Kelsey Wilkins taking seventh in the 800 meters with a time of 2:31.54. Wilkins led for the first part of the race. She was also 12th in the 1,500 meters at 5:11.57.
The 100 meters had three Point Park runners bunched together with Brown and Fowler tying for 13th at 13.08 and Langeley in 16th at 13.12. Those three also led the Pioneers in the 200 meters placing 29th, 30th and 31st, respectively.
Danika Adams-Peterson debuted tying for ninth in the high jump at 4 feet, 9 inches. Darien Leighty was close behind in 11th place at 4 feet, seven inches.
It was a busy and productive day for Leighty, who was 15th in the triple jump (29-05) to lead the lead and also registered a personal-record in the 200 meters.
As the first outdoor meet in school history, the team leaders in each event set program records. Also leading Point Park in events were McAllister in the 100 hurdles (17.32), Olukemi Olugbakinro in the 400 meters (1:09.02), Amber Brown in the 200 meters (27.45), Vanessa Sprando in the shot put (28-10) and javelin (72-08) and Vianka Cotton in the long jump (14-7.25).
For complete meet results, click the link above. The Pioneers are next in action Saturday, March 28 at the West Virginia Wesleyan Bobcat Invitational.
Follow the Pioneers on Twitter @PointParkSports