Explore options before receiving a financial aid award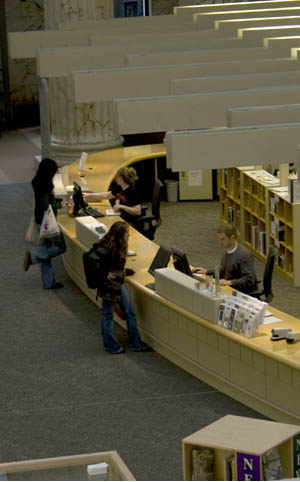 Paying for a college education can be a challenging prospect for many families.
At Point Park, 99 percent of our students receive some form of financial aid, from scholarships based on grades and test scores, to other types of aid -- grants, loans and work-study awards --  based on financial need.  In 2012, the University awarded $81 million in various types of financial aid.
Our Office of Financial Aid strives to create the best possible financial aid package for each student. But for most students, that package does not equal the total cost of attending Point Park. Advance planning can help determine how to cover the rest.
Getting started
Point Park encourages students and families to research different strategies for college costs, even before you receive a financial aid award.  Here's how to get started:
Third, if your financial aid award package does not equal the cost of attending Point Park, begin your research on how to cover the difference. 
Exploring your options
Fortunately, there are options for covering the difference between financial aid and total college costs, including private scholarships, private loans, student employment and University payment plans.
Private Scholarships
Everyone has heard of students who get private scholarships based on unique qualifications you might never have imagined. Getting those scholarships starts with researching what's available, finding matches and submitting applications.
Point Park suggests four Web sites that allow students and families to explore private scholarships:
Private Loans
Once you and your family have considered all federal, state and other resources and options for loans, you can use the Pennsylvania Private Loan Marketplace to instantly and accurately compare rates and terms from multiple private lenders side-by-side.  This will help you make an informed decision about the most appropriate loan for you. 
The Pennsylvania Private Loan Marketplace displays products from local and national lenders, complete with detailed lists of APR's, interest rates, total costs, monthly payments, borrower benefits, fees and repayment options.
Point Park University does not endorse any lender either on the Pennsylvania Private Loan Marketplace or any other lender.  You have the right to choose any lender for your private loan option and Point Park University will certify any loan from any lender you chose.
Student Employment
While some may worry about holding a job during college, studies have found that students who work a reasonable number of hours per week excel at balancing schoolwork, a job and a college social life.
Point Park students who hold jobs other than federally funded work-study aid find positions in two areas:
On-campus employment:  Point Park has many students who work in campus offices, such as the University library,  academic departments and administrative departments.  The University's Office of Human Resources maintains those job listings.
Off-campus employment: As an urban University, Point Park is surrounded by Downtown Pittsburgh businesses that may hire college students. The Student Life Office of Career Development maintains an online listing of part-time jobs with local employers. 
Payment Plans
Point Park offers payment plans to help students and families who cannot pay their balance of tuition and other expenses at one time. While this option can help those who need to pay in increments, the University does expect all students to fulfill their financial obligations.
For a full description of this option, please visit our Payment Plans page
Seeking help
If you're having trouble determining how to cover the difference between financial aid and the total cost of attending Point Park, let us know -- we want to help. Please contact the Office of Student Financial Services to discuss your circumstances. Our staff may be able to suggest options or help you plan.