Supporting the journey...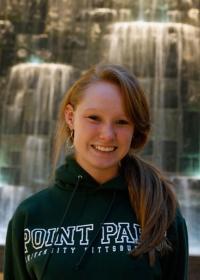 Your donation can support the journey of deserving Point Park students and make it possible for Point Park to continue to provide a first-rate educational experience.
Contact us now at 412-392-3999 or annualfund@pointpark.edu, or learn more by clicking below.
Point Park mentors at-risk youth
Pittsburgh Foundation Wishbook
Point Park's 2Hours 2Change 4Life exposes Pittsburgh-King at-risk middle school students to a world of opportunity that exists beyond the somewhat dire circumstances of their lives and community. After three years of this mentoring partnership, King students have become an extension of our Point Park community and have begun to internalize the possibility of college as a distinct reality. The University is a significant player in King's efforts to prepare "Promise Ready" students. Funds from the Wish Book will help us provide participating students with necessary materials and supplies.
Visit the Office of Alumni Relations to find out more about Point Park's commitment to our former students.