Supporting the journey ...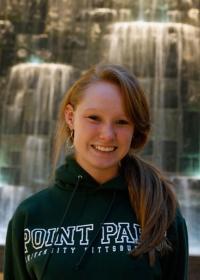 Your donation can support the journey of deserving Point Park students and make it possible for Point Park to continue to provide a first-rate educational experience.
Contact us now at 412-392-8096 or annualfund@pointpark.edu, or learn more by clicking below.
Save the Date: Double Your Gift to Point Park
Point Park is again proud to partner with The Pittsburgh Foundation for the 2014 Day of Giving. This one-day event allows donors to make a gift that will be matched to benefit a nonprofit organization of their choice.
On Tuesday, May 6, 2014, beginning at 6 a.m. and running until midnight, you can make your gift and be a part of a nationwide day of fundraising. This year, the Day of Giving will partner the Give Local America initiative, a day of fundraising events organized by more than 100 community foundations across the country.
Be a part of the action and support your alma mater by visiting www.pittsburghgives.org on Tuesday, May 6, clicking on "Donate Now" and searching for Point Park University. (You can give to up to 10 nonprofits in one session!)
Only credit card donations (and only MasterCard and Visa credit cards) received through www.pittsburghgives.org will be matched for The Day of Giving. No donations via check, cash or stock will be accepted. No donations made directly to Point Park will be accepted. The minimum gift is $25.  The maximum gift that an individual can give is $1,000. Each gift is 100 percent tax-deductible. 
(The credit card charge will display as a donation to "The Pittsburgh Foundation" on the donor's credit card statement. Point Park will receive one check from The Pittsburgh Foundation totaling all donation(s), net of the credit card fee, plus the match portion along with donor information within 30 days of the event's end. We will notify you when we receive your gift. However, your gift receipt will come from The Pittsburgh Foundation.)
For more information, please contact feel free to contact Maria Villiotti, director of annual giving, at 412-392-3999 or mvilliotti@pointpark.edu
More about supporting Point Park
Visit the Office of Alumni Relations to find out more about Point Park's commitment to our former students.