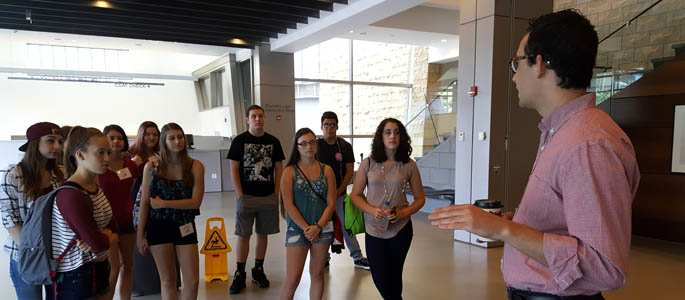 High school students tour the August Wilson Center at the 2016 SAEM Summer Workshop.

Explore Our City and Your Career
Save the Date: SAEM Summer High School Workshop is July 17-20, 2017

Learn how you can make a career in the businesses of sports, arts and entertainment management with an SAEM degree from Point Park University. Pittsburgh's champion sports franchise teams, world-class arts and cultural organizations and nationally-acclaimed live entertainment venues are all just steps away from our Downtown campus.
"I've been considering coming to Point Park for a really long time. After being at this workshop for the past four days, I can tell that the SAEM major really fits my personality."

-- Rhianna Davis, Burrell High School

---
Related Links
At the Point Park University 2017 SAEM Summer Workshop, prepare for a fun, active and incomparable immersion into Pittsburgh's sports, arts and entertainment businesses via the following expert guides.
Workshop Cost and Schedule
The four-day workshop costs $150, which includes transportation to events, meals and evening activities (Pittsburgh Pirates games, movie night, etc.) as well as room and board.*
A small number of partial and full scholarships are available.
The workshop runs from 9 a.m. to 3 p.m. daily, with the option to stay overnight on Point Park's campus at no additional cost.
*Students age 15 may attend workshop hours, but not stay overnight. Students age 16 and older may attend the workshop and stay overnight with Valid ID. Students staying overnight are housed in Thayer Hall and chaperons are on site.
Registration and Scholarship Application
Registration application  — Deadline is July 1, 2017. Space is limited. The full registration fee of $150 is due with this application. If you are interested in applying for a scholarship, please see scholarship application link below.


Scholarship application — A limited number of scholarships are available to attend this workshop.
Learn more
For questions or more information about the SAEM high school workshop, contact Ashley Dobransky at 412-392-8023 or adobransky@pointpark.edu.
Connect with the SAEM program:
Point Park University offers a Bachelor of Science business-focused degree in sports, arts and entertainment management, as well as a concentration in SAEM as part of the M.B.A. program.