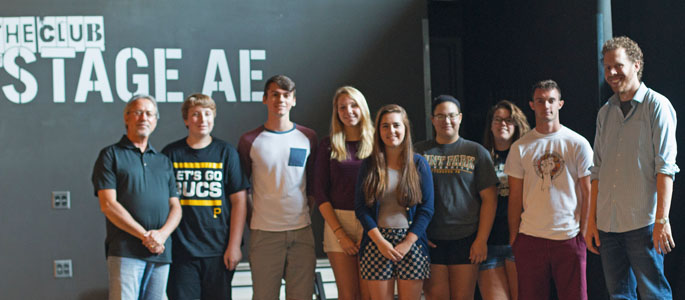 At Stage AE, pictured above are high school students at the 2015 SAEM Summer Workshop. 

All-Access SAEM Summer Workshop for High School Students Held July 11-14, 2016

The annual All-Access Sport, Arts and Entertainment Management Summer Workshop for high school students consisted of four days (additional day added this year!) packed with info on what it's like to work in these industries. 

This year's July 11-14 workshop was held from 9 a.m. to 3 p.m. each day. The total cost to attend the four-day summer workshop was $150, which included lunch each day and all event admission tickets.
---
Learn More
2016 Workshop Schedule:
Check out the four-day SAEM workshop schedule below.
Monday, July 11
Meet Steve Tanzilli, J.D., associate professor of sports, arts and entertainment management and chair of the Department of Business.
Steve gave an inside look into what it is like to manage a professional athlete. In addition, he outlined how the law intersects with the sports, arts, and entertainment industries. Steve has worked with a number of different sports clients such as Ryan Clark and James Harrison.
TV, Facebook, Instagram, YouTube, radio and more — media plays a huge part in sports, arts and entertainment and it was the afternoon experience students had with Assistant SAEM Professor Paige Beal, M.B.A. Included was a visit to iHeartMedia, Inc. to tour their studio and business operations in Pittsburgh and see where live artists play.
Tuesday, July 12
Ed Traversari, M.B.A., SAEM associate professor and concert promoter, guided students through a tour of Stage AE and saw where our current SAEM students learn in the Stage AE classroom. Additionally, Amy Cooper, marketing director for Stage AE/Promowest Productions, will stopped by and shared some career advice.
On this day, students also learned how the live entertainment business works and the jobs available in this field.
Finally, they learned about Pioneer Records, Point Park's student-run record label from sound engineer and owner of Red Caiman Media, Jesse Naus, and got a private performance from one of the label's signed artists! 
Wednesday, July 13
Meet Kim Martin, producing director for the Pittsburgh Playhouse. Kim gave a backstage tour of Point Park's Playhouse as well as an overview of the history of Point Park's three theatres. Students also met with resident designers and learned about backstage operations including lights, costumes and special effects; all which contribute to opening night in the theatre.  
Alicia DiGiorgi, director of production/stage management at the Pittsburgh Playhouse — the rarely seen, seldom-acknowledged theatre artisan and administrator who truly makes it all happen — ended the day discussing stage management.
Thursday, July 14
Assistant Professor of SAEM David Rowell, M.F.A., started the day taking students to the August Wilson Center. Jacob Bacharach, operations manager, led a tour of the August Wilson Center and its 472-seat theatre for performances. David then discussed the careers available in the performing arts world along with the details of marketing and presenting a show.
The week ended with a talk from Point Park's admissions staff. Students were with details on how and when to apply and what information is needed such as SAT scores, references, etc. They also get the chance to explore the campus including the dorm rooms.
Registration 
Check back to this page for registration on the 2017 SAEM High School Summer Workshop. 
Learn more
For questions or more information about the SAEM high school workshop, contact Ashley Dobransky at 412-392-8023 or adobransky@pointpark.edu.
Connect with the SAEM program:
Point Park University offers a Bachelor of Science business-focused degree in sports, arts and entertainment management, as well as a concentration in SAEM as part of the M.B.A. program.