Internship Profiles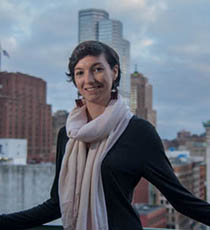 Meet Kaitlyn Colhouer, Animal Inc. 
---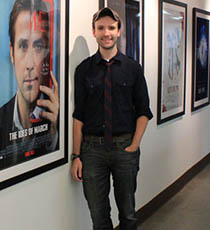 Meet Joe Balewksi, Exclusive Media.
Internships Provide Real-World Experience
Downtown Pittsburgh is home to several industry-related businesses, including production studios, casting agencies and TV stations where students can intern to gain hands-on experience and make connections that lead to jobs. Students have also interned and worked on film and TV sets, production houses and studios in Los Angeles, New York and other locations across the country.
Cinema students have interned/worked at:
321 Blink (Pittsburgh)
AltarTV (Pittsburgh)
Animal, Inc. (Pittsburgh)
Argentine Productions (Pittsburgh)
Carnegie Science Center (Pittsburgh)
Casteel Management Group and 5th Avenue Entertainment (Pittsburgh)
Disney Studios (Los Angeles)
Docherty Casting Agency (Pittsburgh)
Exclusive Media (Los Angeles)
KDKA (CBS affiliate, Pittsburgh)
Lionsgate (Los Angeles)
Market Street Sound (Pittsburgh)
Mind Over Media (Pittsburgh)
Nancy Mosser Casting (Pittsburgh)
New Perspective Communication (Pittsburgh)
Nu Image Films (Los Angeles)
On Motion Media (Pittsburgh)
Pacific Soundwaves (Los Angeles)
Parish Digital Video Production (Pittsburgh)
Pittsburgh City Theatre
Pittsburgh Community Television
Pittsburgh Film Office
Pittsburgh Zoo and PPG Aquarium
PMI (Pittsburgh)
Quantam Theater (Pittsburgh)
Red Giant Media (New York)
Remote Control Productions/Hans Zimmer (Los Angeles)
Silk Screen: Asian Arts & Culture Organization (Pittsburgh)
Steeltown Entertainment Project/Film Factory (Pittsburgh)
The Heinz Endowments (Pittsburgh)
The Talent Group (Pittsburgh)
Trends to Traditions (Pittsburgh)
Women in Film and Media (Pittsburgh)
WPCW (Pittsburgh)
WQED (Pittsburgh)
WTAE (ABC affiliate, Pittsburgh)
Downtown Pittsburgh Film Scene
Pittsburgh has become a magnet for feature film and television production — in the past 10 years, more than 50 major movies have been filmed in the area, including Adventureland, The Next Three Days and One for the Money. This boom gives students the opportunity to gain real-world experience just steps from campus.
Students have worked on the following films/TV productions:
Abduction (directed by John Singleton, starring Taylor Lautner)
Adventureland (written and directed by Greg Mottola)
Bridge to Nowhere (directed by Blair Underwood)
The Dark Knight Rises (directed by Christopher Nolan)
I Am Number Four (produced by Michael Bay)
The Kill Point (TV series with John Leguizamo, Donnie Wahlberg)
Love & Other Drugs (starring Jake Gyllenhaal, Anne Hathaway)
My Bloody Valentine 3D (directed by Patrick Lussier)
Mysteries of Pittsburgh (directed by Rawson Marshall Thurber)
Neighborhood Narratives (collection of nine short films)
The Next Three Days (directed by Paul Haggis)
One for the Money (starring Katherine Heigl)
One Shot (starring Tom Cruise)
The Perks of Being a Wallflower (directed by Stephen Chbosky)
The Road (starring Viggo Mortensen, Charlize Theron)
She's Out of My League (produced by Jimmy Miller)
Smart People (starring Dennis Quaid, Sarah Jessica Parker)
Sorority Row (directed by Stewart Hendler)
Unstoppable (starring Denzel Washington)
Warrior (directed by Gavin O'Connor, starring Nick Nolte)