Associate Professor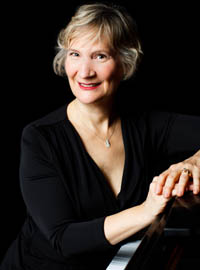 Contact Information
Education
B.Mus., University of Michigan
M.M., Duquesne University
University of Pittsburgh, Southern Methodist University and Carnegie Mellon University, nearly 30 post-graduate credits, including humanities, piano pedagogy and eurhythmics 
Courses Taught
Piano-Theory Fundamentals I, II
Sight Singing Fundamentals I, II
Private Piano I-IV
Piano Class
Musicianship
Music Theory
Foundations of Musical Theatre Techniques I, II
Music Reading for Stage Managers
Rehearsal and Performance
Music Appreciation
Arts and the Human Experience I, II
Methods of Music and Art
Music Education
Background
Praised for her convincing and passionate interpretation, Rochelle Klein is a pianist, a singer, a certified music educator and an arts administrator. She has garnered rich experience in performance, higher education, nonprofit arts and public education.
Klein's performances and programs have been reviewed in The New York Times, Chicago Tribune, Detroit Free Press and Pittsburgh Post-Gazette, among others. Her program development and implementation have won grant support from national and state agencies, corporations and foundations. 
At Point Park University, Klein is an associate professor in the musical theatre program. Since 1996, she remains head of music education and core arts. She teaches private piano and creates, teaches and administers music techniques and arts courses. Funded projects she has secured or facilitated for Point Park include master classes by composers Marvin Hamlisch, Ricky Ian Gordon, Adam Gwon, and lecture-demo performances by artists from the Pittsburgh Symphony Orchestra, Cello Fury and Umoja Dance Company, among many. Previous posts include full-time Conservatory teaching artist and adjunct Education faculty.
Professional Certifications
Technology Institute for Music Educators, Level 1
Commonwealth of Pennsylvania, Instructional II Music
University of Michigan, Teacher Certification, Music
Professional Memberships
Pittsburgh Concert Society, board of directors
Zohar Chamber Singers, founding soprano
National Association for Music Education
College Music Society/Northeast District
Pittsburgh Piano Teachers Association
Selected Artistic Works
All-Star College Chorus, contributing site director, Pittsburgh Symphony Pops
The Time of Your Life, music director/pianist, Pittsburgh Playhouse
There's a Place for Us: Musical Theatre Resources in the Pittsburgh Area, DVD author/pianist
Fiddler on the Roof, music director/pianist, Jr. Open Stage Players
Once Upon a Mattress, music director/pianist, Jr. Open Stage Players
Selected Performances
Singing City, Music of the Spirit Festival, Pittsburgh Symphony Orchestra
Carmina Burana, University of Michigan Choir/Detroit Symphony Orchestra, Carnegie Hall, New York
Legendary Steinways, piano soloist and clinician, University Club, Pittsburgh
Zohar Chamber Singers, Pittsburgh Jewish Music Festival/broadcasts, WQED-FM and Comcast Live On Demand
The Unicorn, Gorgon and Manticore, actress, Ann Arbor Civic Theatre and Cantata Singers
Carousel scene, music director/pianist and presenter, Pennsylvania Music Educators Association
Intelligent Tutoring Systems Conference, pianist, Carnegie Mellon University
Pages from a Diary, collaborative pianist with Karen Dryer, CD/performance, Tuesday Musical, Pittsburgh
Illinois Music Teachers National Association, piano soloist, Don Isaaks master class, Music Institute of Chicago
Selected Publications
Author, "Louis Nagel, The People's Pianist," Clavier Companion.
Author, "Growing Up with the Symphony: Reflections of a Pittsburgher," Pittsburgh Post-Gazette.
Author, "Musica Instrumentalis (poem)," Teaching Artist Journal.
Author, "The Value of Analysis," Music Theory: Explorations and Applications.
"The Value of Analysis," thesis annotated by David Carson Berry in A Topical Guide to Schenkerian Literature: An Annotated Bibliography.
Research Interests
Piano performance and pedagogy
Music theory rudiments; score analysis
Musical theatre song literature; Sondheim
Music and arts education; higher education
Mindfulness and movement
Selected Awards
National Endowment for the Arts, chamber music panel grant, Young Audiences of Chicago
Illinois Arts Council grants, Young Audiences of Chicago
Stellar Music Teacher, Online Course Evaluations
Edwina Uhl Babst award, University of Michigan