B.F.A. PROGRAM GUIDES: FRESHMEN; TRANSFER | COURSE DESCRIPTIONS | FACULTY | SCHEDULE OF COURSES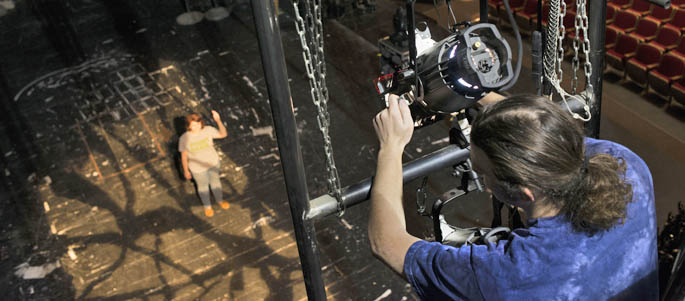 Stage Management Major
During your freshman year in the program, you will take beginning-level courses in all major subjects to give you a well-rounded education. Outside of the classroom, you can expect to be assigned as an assistant stage manager as early as your first semester, while sophomores, juniors and seniors are eligible to stage manage one of the many shows produced during the season by the conservatory's four companies at the Pittsburgh Playhouse.
Alumni profile

Meet James Ogden, a stage manager at North Carolina Dance Theatre.
Related links
While working on these productions, you will learn real-world skills and work side by side with professional actors, stage managers, set designers and technicians who will serve as models and mentors. Our four production companies, coupled with our three-venue complex, allow students to experience a broader range of productions, making for a more versatile stage management professional.
Degrees in Theatre Arts
Point Park offers a B.F.A. in theatre arts with a concentration in stage management. Learn more about the degree requirements of the B.F.A. program.
Course Offerings
You will receive a well-rounded education through the core curriculum and classes in your major. Some courses in the stage management concentration include:
Advanced Stage Management and AEA Contracts
Audio for the Theatre
Carpentry for the Theatre
Electricity for the Theatre
Fundamentals of Design
Fundamentals of Directing
Production Management
Script Analysis
For a comprehensive list of program requirements and course descriptions, see the B.F.A. program guides at the top of the page and the Conservatory of Performing Arts course descriptions.
Stage Management Careers
With a B.F.A. degree in stage management, you will have the option to pursue various career opportunities, such as:
Assistant stage manager
Facilities manager
Stage director
Stage manager
Theater manager
Alumni
Our alumni are currently stage managers, production managers and project managers at various theatres across the country, as well as cruise lines and entertainment companies.