DEGREE REQUIREMENTS | COURSE DESCRIPTIONS | THREE-YEAR PROGRAM SCHEDULE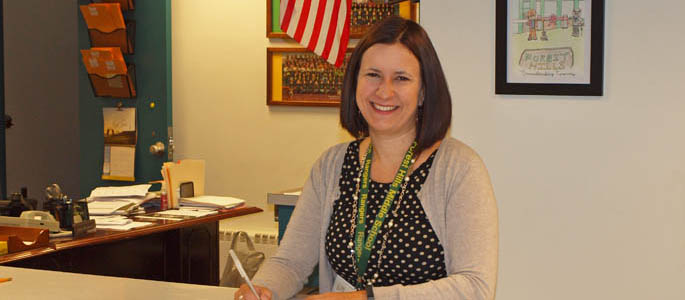 Meet Ed.D. student Laura Miller, dean of students and librarian for Forest Hills School District.
Explore Our Three-Year Doctoral Program Designed for Working Professionals
Applications for the fall 2015 class are now closed. You are welcome to apply for the fall 2016 semester.
Point Park University's Ed.D. program in leadership and administration will expand your leadership skills and help you reach a higher-level position in your career. You can complete this 54-credit, cohort-style degree program in just three years − or less if transferring in post-master's credits.

Tailored to your career needs, Point Park's Ed.D. program offers three tracks to choose from:
K-12 Administration (Including principal certification); or
Take Action
---
Contact Information
Point Park University
Office of Graduate Admission
201 Wood Street
Pittsburgh, PA 15222 
Email: gradadmission@pointpark.edu
Phone: 412-392-3808 or 1-800-321-0129
Fax: 412-392-6164
---
Affording your Degree
The following options can help you afford your Ed.D. degree:
Affordable Cost, Attractive Benefits
Point Park's Ed.D. degree in leadership and administration is one of the most affordable doctoral programs in the Pittsburgh region.

Other key benefits of the program include:
Option to transfer in up to 18 post-master's degree credits
Ability to work closely with a mentor in your chosen field
Courses based on an interdisciplinary framework
Faculty and guest speakers from diverse disciplines
Introductory course on research writing, giving you guidance early on in the program
Feedback provided by faculty throughout the dissertation process
Partnership with Pennsylvania's Professional Leadership Development Center
Program Goals
Upon completion of your doctoral degree in leadership and administration, you will be able to:
Function as a skilled instructional and/or organizational leader in an educational, non-profit or business environment;
Understand and respect the complex interrelationship among stakeholders;
Use the six performance domains, developed by Charles Schwahn, Ph.D. and William Spady, Ph.D. in "Total Leaders" and adapted by the Professional Leadership Development Center, of authenticity, vision, culture, quality, service systems and communication to lead and effect change; and
Understand the role of research in guiding assessment, progress and decision making.
Map to Your Doctoral Degree
Take a look at our three-year program schedule. Courses run year-round and are divided into eight-week sessions (two classes per semester), earning you 18 credits per year for a total of 54 credits. Since this is a cohort program, you will be with the same group of peers in all of your core courses.

Courses are offered at our Downtown Pittsburgh campus and via teleconference, making it possible for working professionals to meet family and personal obligations while finishing all required courses — as well as a dissertation — in three years or less.
Residency Requirements
Residency is met by completing three consecutive semesters of study in the program with a minimum of six hours of course work per semester. Summer, fall and spring semesters are counted toward residency. If you are connecting remotely from the Bedford/Altoona area, you will need to complete one summer session on campus.
Desk building project engages Ed.D. students in team building strategies.

In addition, if you are transferring in credits, you will be required to attend six, day-long seminars, two each academic semester. These seminars will address the theory and performance of the six domains central to the study of leadership in this program: authenticity, vision, culture, quality, service and communication.

You may take these seminars in conjunction with core courses. During the academic year, seminars are typically held on Saturdays. During the summers, the days of the seminars will be announced in the summer course schedule calendar.
Proud Partner of PASA
Learn More
For additional details, contact Lynn Ribar, associate director of the Office of Graduate Admission, at lribar@pointpark.edu or 412-392-3908.