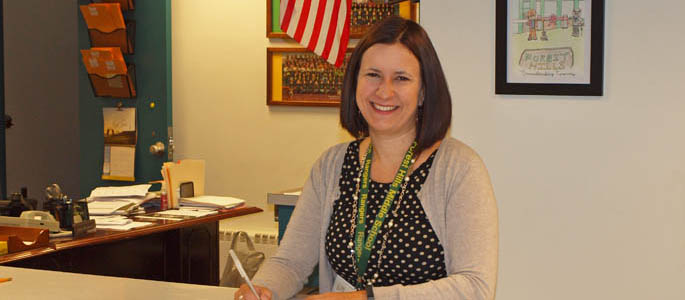 Pictured above is 2016 doctoral graduate Laura Miller, dean of students and librarian at Forest Hills School District.
Our Doctoral Graduates Are Leaders in Their Fields
Graduates of the Ed.D. in leadership and administration program at Point Park University are leaders in the organizations in which they work.
Since launching in fall 2014, the University's Ed.D. program has produced the following graduates. Below are their names, current positions and dissertation titles.
March 2017 Graduates
Kimberly Abel, associate vice president for human resources-professional development services and communications, Carnegie Mellon University, "Where Sexual Harassment, Sexual Violence and Title IX Intersect"


Aimee Cordero-Davis, part-time instructor, Point Park University, "What Factors Influence Recidivism in Juvenile Court: A Study of Closed Cases of Court Adjudicated Youth"


Joey L. Maluchnik, assistant principal, Greensburg Salem High School, "Middle School Programs and Practices: Do the 16 Characteristics Identified by the Association for Middle Level Education Correlate to Student Achievement?"


A.L. Smith, doctoral graduate assistant for the Provost's Office and part-time faculty member, Point Park University, "Dimensions of the Glass Ceiling: Understanding Barriers to Career Progression for Mid-Career Female Leaders. A Phenomenological Qualitative Study of Female Leaders in Pittsburgh, Pennsylvania."
December 2016 Graduates
August 2016 Graduates
Amy Miller, elementary principal, Chestnut Ridge School District, "Are Resilient Principals More Committed to Their Work?: A Quantitative Study of Resilience and Work Commitment Among Principals in Pennsylvania"


Laura Miller, dean of students and librarian, Forest Hills School District, "Is There a Relationship Between Professional Experience and Perceived Self-Efficacy Characteristics and Heutagogical Practices in Teachers? A Mixed Methods Study of Heutagogical Practices in Pennsylvania Public Schools"


Kelly Noyes, program director for K-12 ESL and federal programs, Allegheny Intermediate Unit, "Factors That Influence English as a Second Language (ESL) Program Directors' and Educators' Choice of Program Model or Instructional Approach: A Mixed Methods Study of Pennsylvania Public Schools"