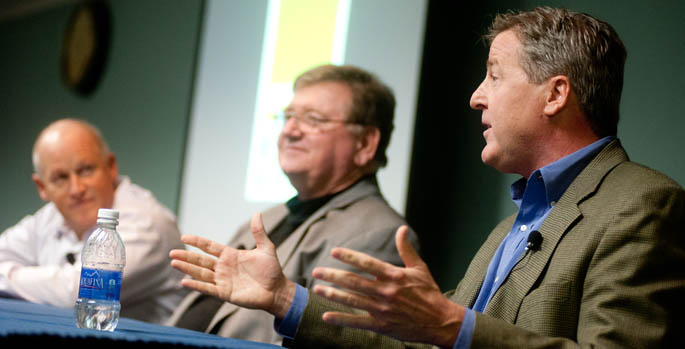 From left to right: Sports announcers Paul Steigerwald, Bill Hillgrove and Greg Brown spoke at Point Park in October 2012. Read about The Voices of Pittsburgh Sports event. View more photos.
Bringing sports industry expertise to Point Park
The Pittsburgh Center for Sports Media and Marketing, part of Point Park's School of Communication, focuses on regional, national and international topics and trends in the fast growing sports industry. The center brings leading executives from all facets of the sports industry to the Point Park campus to speak at workshops and seminars.
These events give Point Park students the opportunity to hear from top industry professionals about best practices and principles within sports media and marketing, and to make networking connections that can be vital to pursuing a career in the sports industry.
Over the past year, the center brought the following sports professionals to Point Park:
Center Events
Check out past workshops:
Bill Hillgrove, play-by-play announcer, Pittsburgh Steelers
Paul Steigerwald, play-by-play announcer, Pittsburgh Penguins
Greg Brown, play-by-play announcer, Pittsburgh Pirates
Michael DeCourcy, college basketball columnist, Sporting News
Cindy Freed, vice president, sales marketing, ESPN
Carrie Brzezinski, senior director of marketing solutions, ESPN
Terry Rodgers, social media coordinator, Pittsburgh Pirates
Jennifer Bullano, director of communications, Pittsburgh Penguins
Jeff Gregor, executive vice president and chief marketing officer, TNT and TBS
Frank Coonelly, president, Pittsburgh Pirates
David Morehouse, CEO, Pittsburgh Penguins
Corky Hall, CEO, Stellus Consulting
Brian Ross, director of marketing, TBS Late Night
Mike "Doc" Emrick, NBC Sports play-by-play announcer
For information on future seminars and workshops as they are scheduled, visit the School of Communication news page.
Contact Us
The center is located in the Point Park University Student Center, Room 704. Learn more about the center's student advisory board and co-directors. For more information, please contact: 
More photos: Center for Sports Media and Marketing Events