PROGRAM GUIDE | COURSE DESCRIPTIONS | FACULTY | SCHEDULE OF COURSES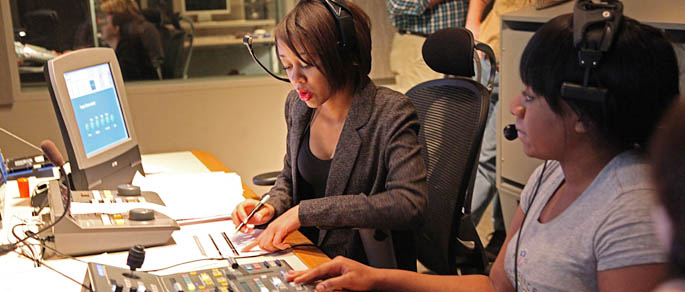 School of Communication students use Point Park University's state-of-the-art television studio.
Earn a Degree in Media Production
The broadcast production and programming major is one part strong academics, one part insight and one part hands-on experience. In this program, internships are a must, and with so many AM, FM, television stations and production houses in and around Pittsburgh, they're easy to find.
Classroom and extracurricular activities include commercial, news and script writing; producing, directing and editing for radio/TV; program scheduling and production; and station promotions.
Alumni Profile
"At Point Park, there are so many opportunities to practice writing, shooting, editing, being on camera, etc., and you can really build a solid portfolio of work."
– Learn more about broadcasting alumna Kate Santichen, class of 2007.
---

Take Action
You can put your classroom learning to work by joining the staff of the award-winning, student-operated radio station, WPPJ (AM-670). Television production majors can produce shows and other content for U-View, Point Park's Student Broadcasting Network. And we encourage you to join the Point Park chapter of the National Broadcasting Society, a professional group that connects you with other students, local broadcast media, professional groups and reputable local broadcasters.
Television Production Facilities
One of the most state-of-the-art production facilities in Western Pennsylvania is all yours, right here at Point Park. If you can dream it, you can produce it here because the Point Park University broadcast production facilities are capable of anything.
The 24-by-72-foot studio/sound stage has a 10-foot-high lighting grid, three Sony digital studio cameras (with teleprompters), a seamless two-wall hard cyclorama, a four-seat news desk with a painted backdrop mural of Pittsburgh's breathtaking skyline, a video/engineering control room equipped with tools for you to do anything, a live announcer's booth, a 40-channel audio board, routers that will patch any source into any destination and a grommetted green-screen. The only part that's missing is you!
It's got everything you need to make your wildest dreams come to life. Be a part of the action, and your career in media production will begin in 5 ... 4 ... 3 ... 2 ... 1. Check out the production facilities and equipment.
Production and Programming Course Offerings
You will receive a well-rounded education through Point Park's core curriculum and classes in your major. Some of the courses in the broadcast production and programming major include:
Broadcast Programming and Formatting
Broadcast Writing and Editing
Communication Law and Regulation
Multi-Camera Video Production and Directing
Radio Production
Television Production
TV Programming and Sales
For a comprehensive list of program requirements and course descriptions, see the program guide and School of Communication course descriptions.
Careers in Media Production
With a bachelor's degree in broadcast production and programming, you will have the option to pursue various broadcast job opportunities, such as:
Assignment editor
Camera operator
Master controls operator
News director
Producer
Promotions
Sales