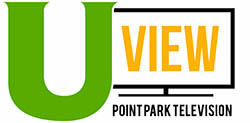 Who we are
U-View is Point Park University's campus TV channel. It airs Point Park student-produced programming 24/7 exclusively.
Programs 
Point News
Pioneer Sideline
Daybreak
Entertainment on Point
In Focus
Pittsburgh Welcomes
A variety of other shows and specials
Join Us
Any full-time or part-time student currently enrolled as any major or minor in the University may join the staff, although it is primarily staffed by students in the School of Communication and the Cinema Arts Department.
Contact Us