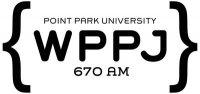 WPPJ - 670 AM - Point Park University Radio
WPPJ is a mixed-format college station, meaning it plays music from a wide variety of genres: hip-hop to indie rock; Warp Records to K Records.
WPPJ provides a co-curricular activity for students with an interest in radio, news, sports, contemporary/popular music, media sales and promotions. WPPJ also serves as a training facility for students of any major who desire a career in professional broadcasting. It also provides a medium of intra-university communications over the air and via the Web.
If you have any questions or would like to join its staff, please stop down at the radio station on the second floor of Lawrence Hall.
Contact WPPJ:
WPPJ
Phone: (412) 392-4725
Adviser:
David Fabilli
dfabilli@pointpark.edu
(412) 392-3415