If you have questions about upcoming activities, or would like to help plan an upcoming event, contact the Office of Alumni Relations at alumni@pointpark.edu or 412-392-4204.
Ask Me Anything with Career Counselor Elsie Boucek 
Tuesday, Oct. 20
Noon - 1 p.m.
Do you have a question about current resume formatting trends, how to ask for a raise or promotion, or even what to wear to an interview? This is your chance to ask one of Point Park University's career counselors, Elsie Boucek! She will be taking questions live from Point Park alumni on any and all career topics. Take a moment during your lunch, whether from your computer or LinkedIn mobile app, to ask a question. 
The Ask Me Anything event will take place in the Point Park Alumni's LinkedIn Group. 
If you have questions, but cannot attend, please submit them to alumni@pointpark.edu by the morning of Oct. 20. 
Cinema Arts Department Alumni Reunion
Friday, Nov. 6
7 p.m. Cinema Screening
8:15 p.m. Reception
Please join Point Park University's Department of Cinema Arts for an alumni reunion party where you are invited to reconnect with fellow alumni and cinema faculty. The reunion will be preceded by a public screening of the 2015 Cinema Showcase, which includes our best student films from the 2014-15 academic year.  
Screening will start at 7 p.m. at
Row House Cinema
4115 Butler St
Pittsburgh, PA 15201
Screening cost is $5 per ticket at the door.
Reception afterwards will start at 8:15 p.m. at
Round Corner Cantina
3720 Butler St
Pittsburgh, PA 15201
Open bar and appetizers will be served.
RSVP online or email alumni@pointpark.edu by Monday, Nov. 2. 
Washington, D.C., Alumni Reception
Sunday, Nov. 8
Time and Location are TBD
Please stayed tuned for more information about an alumni gathering in Washington, D.C. Come join your alma mater and fellow alumni for an afternoon of conversation and networking.
Recent Alumni Happy Hour
Thursday, Nov. 12
5:30 - 7:30 p.m.
Carmella's Plates and Pints
1908 Carson St.
Pittsburgh, PA 15203
Join fellow alumni from the classes of 2005 through 2015 for a casual reception and conversation. Enjoy complimentary appetizers and a drink on Point Park. Bring a fellow alum as a guest and you'll each enjoy an extra drink on us!
If you have any questions about the event, please contact us at alumni@pointpark.edu or 412-392-4204. 
SAVE THE DATE!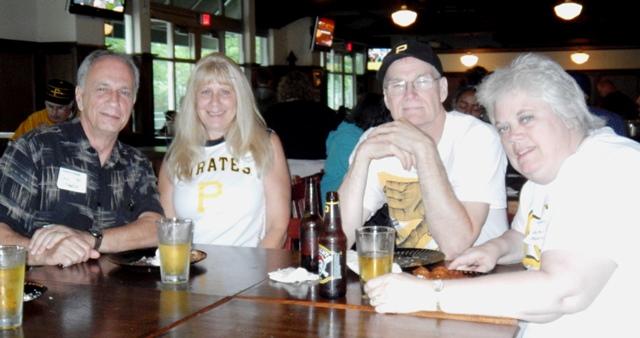 Fall 2015: Volunteer opportunities, faculty talks, and more!
Questions? Contact the Office of Alumni Relations at 412-392-4204.
To see more photos, check out the Point Park University Alumni Facebook page!
Stay tuned for more news about upcoming events and opportunities for alumni.