If you have questions about upcoming activities, or would like to help plan an upcoming event, contact the Office of Alumni Relations at alumni@pointpark.edu or 412-392-4204.
Recent Alumni Happy Hour
Wednesday, May 10, 2017
5:30 to 7:30 p.m.
City Works in Market Square
2 PPG Place
Pittsburgh, PA
Join us for the May Recent Alumni Happy Hour on Wednesday, May 10. Join fellow alumni from the classes of 2007 through 2017 for a casual reception and conversation at the brand-new City Works in Market Square.
Please purchase tickets by May 8. 
2017 Los Angeles Cinema Showcase
Wednesday, May 17, 2017
7 to 10 p.m.
Harmony Gold Preview House
7655 Sunset Blvd.
Los Angeles, CA
Please join Point Park University's Conservatory of Performing Arts in Los Angeles for the 2017 Cinema Showcase to see award-winning student films produced during the '16-'17 academic year. There will be a reception immediately following the screening at the theater and an opportunity to see your fellow alumni and meet the students. Bring your colleagues and friends to spread the news about Point Park's talented students and graduates!
To ensure seating, please RSVP by May 12.
2017 Point Park Alumni Pirates Outing
Pittsburgh Pirates vs. Philadelphia Phillies
Saturday, May 20
Reception: 2 p.m.
At McFadden's on the North Shore
211 N. Shore Drive
Pittsburgh, PA 15212
Game time: 4:05 p.m.
PNC Park
Join fellow alumni for Point Park's annual baseball outing! Ticketed guests are invited to a pre-game reception at McFadden's followed by the Pirates game. Tickets are located in section 105 on the lower level along the first baseline and have a $10 concession value.
Batting Practice Opportunity: Alumni who have made a gift to Point Park between Sept. 1, 2016 and May 12, 2017, will be entered to win on-field passes to watch batting practice prior to the start of the game.
Please purchase tickets by Sunday, May 14.
Recent Alumni (graduated in the last five years, Classes of 2012-2017): $25
General Ticket (Alumni, Staff, Faculty, & Guests): $35
SAVE THE DATE!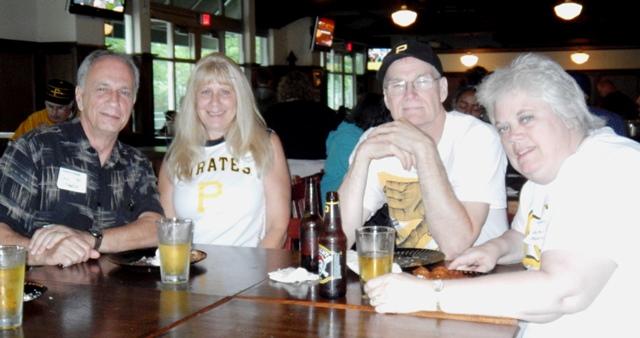 Fall 2017: Regional events, networking opportunities, and more!
Questions? Contact the Office of Alumni Relations at 412-392-4204.
To see more photos, check out the Point Park University Alumni Facebook page!
Stay tuned for more news about upcoming events and opportunities for alumni.