KIAC Coach, Pitcher of the Year highlight Point Park's KIAC Baseball Awards
May 6, 2015 at 3:00 p.m. ET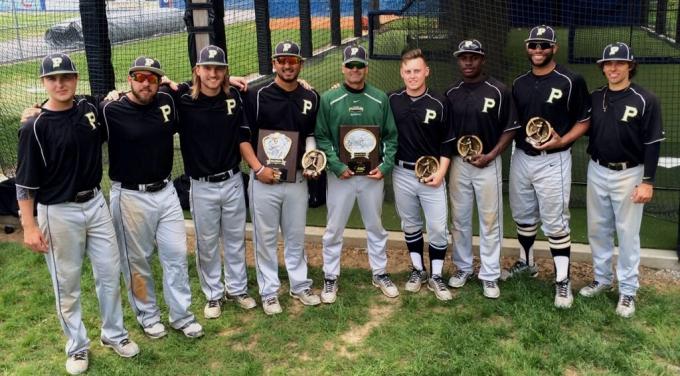 KIAC All-Conference awardees (L to R): Jake Horew, Oscar Romero, Jarrad Brown, Jason Kim, Head Coach Loren Torres, Nate Sphon, Demetrius Moorer, Andy Chacon and Chaz Russo.
PITTSBURGH -- KIAC Baseball Coach of the Year Loren Torres and KIAC Baseball Pitcher of the Year Jason Kim headline Point Park University's honorees in the 2015 KIAC Baseball All-Conference and Individual Awards as announced by the KIAC office.
The all-conference awardees were recognized at the KIAC Baseball Tournament last week. The honorees were voted on by KIAC baseball head coaches.
Making the KIAC All-Conference First Team from Point Park were starting pitcher Jason Kim (KIAC Pitcher of the Year), starting pitcher Nate Sphon, center fielder Demetrius Moorer and designated hitter Andy Chacon.
The KIAC All-Conference Second Team had starting pitcher Jarrad Brown, relief pitcher Jake Horew and second baseman Chaz Russo from Point Park.
Point Park was represented on the KIAC Gold Glove Team by Sphon at pitcher, Moorer at center field and Oscar Romero at first base.
For Pioneers head coach Loren Torres, his 2015 KIAC Coach of the Year award marks the fifth time in his 11 years as a college head coach that he has been named conference coach of the year. He was also the KIAC Coach of the Year in 2013, the AMC Coach of the Year in 2011 and 2012 and the CCAC Coach of the Year in 2004.
Torres guided Point Park to the KIAC Regular Season championship at 16-4 KIAC and also to a conference-best record of 37-13 overall. The Pioneers were ranked in the NAIA Top 25 every week of the season and reached the semifinals of the KIAC Tournament. Torres is 220-97 (.694) in six seasons at Point Park, an average of 37 wins per season. For his 11-year career, he is 327-201 (.619).
KIAC Pitcher of the Year Jason Kim compiled a record of 8-2 with a 2.17 ERA to earn top conference pitcher honors. A junior left-hander from La Crescenta, Calif., Kim led the conference in wins (8), earned-run average (2.17), opponent batting average (.223), innings pitched per game (6.23) and walks allowed per game (1.16).
Kim, who transferred to Point Park from NAIA Biola (Calif.) this year, was a perfect 5-0 with a 0.86 ERA in his five starts versus KIAC teams in the regular season. He struck out 25, walked five and allow just three earned runs on 23 hits in 31.1 innings of KIAC play.
With the top pitching staff in the KIAC, the Pioneers also had senior left-hander Nate Sphon named to the KIAC First Team. Sphon was 7-3 with a 2.55 ERA and opponents hit just .261 off of him. The Greensburg, Pa., native earned a victory in the KIAC Tournament to improve to 22-12 with a 3.15 ERA for his career as a four-year starter.
Also an excellent fielder of the position, Sphon was named the pitcher on the KIAC Gold Glove Team with zero errors in 22 chances and 18 assists on the year.
Demetrius Moorer laid claim as the top center fielder in the KIAC after hitting .344 with 25 RBIs and a conference-leading 22 stolen bases. The junior from Homestead, Fla., also collected 11 doubles, five triples and two home runs as 18 of his 44 hits went for extra bases.
Moorer also earned the KIAC Gold Glove honor with zero errors in 105 chances in center field. His gap-to-gap defensive coverage collected 96 putouts, and he also racked with nine outfield assists, all without an error on the season.
Andy Chacon was the the KIAC First Team designated hitter as the top power threat for the Pioneers and one of the top power hitters in the conference. Chacon, a junior from Miami, Fla., hit .331 with a team-high six home runs and also 34 RBIs in 39 games. He led the Pioneers in slugging percentage at .554.
Jarrad Brown earned a spot on the KIAC Second Team as a starting pitcher after putting up a 6-1 record with a 2.89 ERA. He struck out 34 batters compared to just five walks and allowed opponents to hit just .269. Brown is a junior right-hander from Erie, Pa., who worked his way into the starting rotation for the first time this season.
Jake Horew was named the relief pitcher on the KIAC Second Team after a strong year as the Pioneers' closer. Also the starting shortstop for Point Park, Horew was 3-0 with a 0.95 ERA and six saves in 13 appearances as a pitcher. Twelve of his outings came as a reliever. Horew, a product of Chartiers Valley HS, gave up only four runs (two earned) in 19 innings on the year. He struck out 12, walked four and opponents batted just .176.
Chaz Russo earned KIAC Second Team honors at second base, the second time in his career that he was named all-conference. A senior from Ft. Lauderdale, Fla., Russo came on strong late in the year to hit .311. Russo totaled 10 doubles, one home run, 17 RBIs and team highs of 27 walks and seven sacrifice hits. His on-base percentage of .453 was second only to Moorer on the Pioneers' team.
Oscar Romero earned KIAC Gold Glove honors at first base. The senior from Miami, Fla., was second in the KIAC among infielders with a .978 fielding percentage. He was a part of 24 double plays, and he also led the conference in RBIs with 47.
For a complete list of the KIAC All-Conference Baseball teams, click the link above.