No. 1 Point Park beats No. 4 Brescia (Ky.) in KIAC Baseball Tournament, 15-4
April 30, 2015 at 3:45 p.m. ET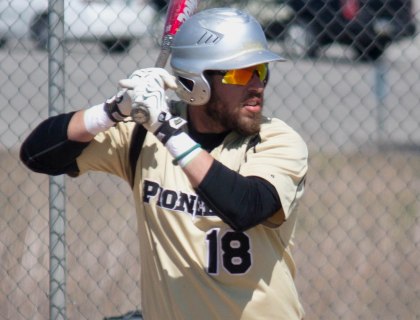 Oscar Romero was 3 for 5 with 3 RBIs versus Brescia to lead the Pioneers. Photo by Sam Robinson.
KIAC Baseball Tournament -- Kingsport, Tenn. (Hunter Wright Stadium)
April 30 -- No. 1 Point Park def. No. 4 Brescia (Ky.), 15-4  BOX SCORE
May 1 -- No. 1 Point Park (37-11) vs. No. 2 Rio Grande (30-20), 12 p.m. LIVE VIDEO
KINGSPORT, Tenn. -- No. 1 seed Point Park University left little to chance with its offense putting up 15 runs to win its opening game of the KIAC Baseball Tournament, 15-4, over No. 4 seed Brescia (Ky.) on Thursday.
The Pioneers (37-11, 16-4 KIAC), who had a bye in the first round, advance to the winner's bracket final to face No. 2 seed Rio Grande (30-20) on Friday at 12 p.m. Rio Grande beat No. 3 IU Southeast (34-17) by a score of 2-1 in 10 innings on Thursday.
Brescia (18-34), which beat No. 5 Alice Lloyd, 8-6, in the first round Wednesday night, falls to the loser's bracket versus No. 6 Asbury (Ky.) Thursday at 4 p.m.
The tournament continues through Saturday at Hunter Wright Stadium in Kingsport, Tenn., with the champion earning the KIAC's automatic bid to the NAIA national tournament.
Point Park had plenty of offense versus Brescia as nine different players contributed to the 12 hits. Senior first base man Oscar Romero paced the Pioneers going 3 for 5 with three RBIs. Senior third baseman Jordan Crowell bashed four RBIs and also homered, a two-run shot that made the score 15-2 in the eighth inning.
The offense was in support of senior pitcher Nate Sphon, who improved to 7-3 on the year with the victory in six innings. Sphon made quick work of the Bearcats for the most part with three 1-2-3 innings and two others in which he faced only four batters.
The Pioneers, who by coin toss were the visitors, made it work in their favor with a run in the top of the first. Demetrius Moorer, who was 2 for 4 with two walks and three runs, led off with a walk. He was sacrificed to second and later scored on Romero's RBI single.
Point Park's first move toward breaking the game open came in the third when it scored five runs. Shane Conley got it started with an RBI single. Later, two runs scored when Andy Chacon reached on an error. Finally, Crowell forced in a run with a groundout.
In the fifth, Chacon's RBI double started a rally. Chaz Russo followed with a run-scoring single, and Crowell tacked on a sacrifice fly to deep left field for the 9-1 lead.
Four more runs came in the sixth, and it was two walks and a bunt that loaded the bases with no outs. Romero followed two batters later with a two-run single. There were were three more walks in the inning -- one of which forced in a run -- and also Russo's sacrifice fly mixed in.
Russo, who was 1 for 3 with a walk and two RBIs, walked to begin the eighth. Crowell followed with his third homer of the year. Also with a strong game was Stefan Mrkonja 1 for 3 with a walk, a sacrifice and three runs scored.
Brescia got just two runs versus Sphon through his six innings. He gave up five hits with four of them coming in the third inning. Those four hits combined to produce just one run, however. Sphon made short work otherwise and picked up one strikeout and walked none along the way.
With the win, the 22nd of his career, Sphon moved into fifth place on the Point Park baseball all-time wins list. He trails only Bryan Neal ('94-97) and Cory Hartsburg ('88-91) with 24 and Rob Fester ('85-87) and Mike Curphey ('96-98) with 23.
Brescia used five different pitchers to get through the nine innings. Starter Bryce Wilz (5-5) had a narrow loss of 2-1 versus Point Park in the regular season, but it was a different story in the playoffs. Wilz pitched two innings and was charged with six runs.
All games at the KIAC Tournament will have live video and live stats. Click the links above for coverage of Friday's 12 p.m. winner's bracket game between Point Park and  Rio Grande.
Follow the Pioneers on Twitter @PointParkSports @PPUBaseball